Gear Review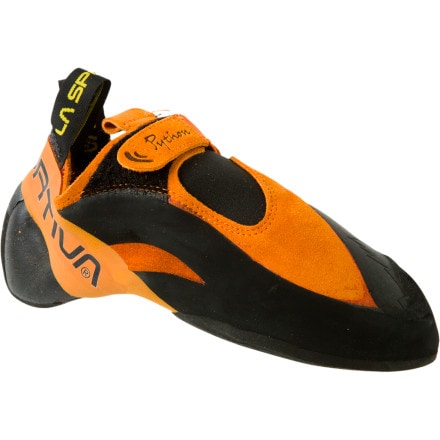 Posted on
Fantastic All-Around
I've climbed in these shoes for about three months now, and I have to say I'm loving them. I think the fit is just a hair looser than the Testarossas. I got them in the exact same size as my Testarossas and they are much friendlier in long doses, while still being super tight (I went 4 full sizes down from my street shoe size). The heel is incredible. When I first got them, it was actually difficult to get my heel *out* of the shoes. They were basically suction cups for my foot.

There's a significant downturn, though the midsole is definitely more flexible than the testarossas so you can still use them on stuff that's not super steep. They technically don't have the P3, but they do have the same type of slingshot rand that the Solutions have, which helps eliminate dead space in the midfoot and helps a bit to keep them downturned. They're definitely a low-volume shoe, and they might also have the most asymmetrical toebox I've ever crammed my foot into; it's basically a triangle. This pushes my second toe into the roof of the shoe and immediately caused blisters when I first got them. But now the blisters have turned to callouses, so no more worries. They're also unlined, so they really conform to your feet like gloves after some break-in. Overall, they've probably stretched about a half size more than the Testarossas and now they're *way* more comfortable. I can actually leave them on for about a half hour at a time despite how tight they fit.

Anyway, I'd say they're fantastic for anything from dead vertical to severely overhanging. I'm sure they'd do alright on slab, but that probably depends more on how you size them. Heel hooks are bomber, perhaps even surpassing the heel hooking power of the Testarossas (which I wouldn't have thought was possible) and the toe can edge on absolutely ridiculous holds. I just got back from a sport climbing trip at the limestone paradise that is Ten Sleep Canyon, WY, and they were incredible in the pockets. You can stick that asymmetrical toe in almost anything!

Overall, I think this is my favorite shoe I've ever owned, and I find myself going for the Pythons on tough projects when I used to reach for my Testarossas. They're easier to put on and off, more comfortable, and in my experience, provide the same if not better performance, especially with regard to the heel. Makes them winners in my book: new favorite shoe for sure!
View More Details on La Sportiva Python Vibram XS Grip2 Climbing Shoe