Gear Review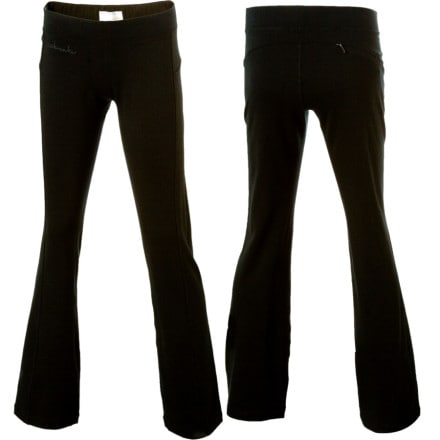 Posted on
FOR THE TALLER GALS....Great, but waist needs redesign + longer inseam option.
THIS REVIEW HAS ALOT OF INFO FOR ALL TALLER GALS. I couldn't get it, so decided to give it. ;-)

I'm 5'9" and 145-148lbs. I ordered a size medium in the Lily.
These fit well in hips, thighs. Inseam length was 33", and borderline acceptable for my long legs...I'd have to wear just the right shoe...this would be limiting.
The waist was 28.75" (measured inside waist diameter). Compared to the icebreaker size chart for this pant...the waist is at least 1/2" smaller.
The waist really is rather small in proportion to the overall cut of the size M pant.
The waist is a wide, tight elastic band...no potential for give/stretch (within the next 2 years for sure). If I weren't a taller build, and the waist did not hit me like a lower rise, these might be perfect. I can usually pull the pants lower on hips to get by, lengthening inseam if slightly short...not happening with this pant style, due to type of waist.
They fit was not as comfortable as it should be for the $$$, plus really do need longer inseam.
Backcountry's picture makes these look like they're cut rather straight from hip to waist. This is not the case. Holding them up and viewing, I think "hour glass" due to the wide elastic, unforgiving, waist design. If I were always going to wear them with larger, longer, non-slim fitting tops, could pull waist lower on hips, then the waist would be no issue. I have mostly slim fit tops planned for wear with these pants.

I decided to order these in size large...31" waist and 34.25" inseam. The size large waist falls on my hips, settles in the right spot, and feels good. I just wish the hips/butt, and thighs, on the size large, fit like the size medium.
The size large 34.25" inseam does allow more length for taller girls.

These are VERY SOFT, VERY WARM, and COMFORTABLE...you'd never know they were wool. Fabric is wonderful. I recommend Icebreaker. I love how it resists odor, maintains shape, regulates body temp. It really performs well.

I had no issue with the crotch, as mentioned in another review. Although, I have a gap between my thighs.

BOTTOM LINE: Icebreaker needs to address the elastic waist design on this Lily pant. Elastic is way too tight and unforgiving. Additionally, It would be nice if Icebreaker offered their Pant line in longer length option.

I hope this long winded review helps someone.

Thanks BackCountry...your customer service is excellent, you give great advice, and delivery is always expedited. You're the best!
View More Details on Icebreaker Lily Pant - Women's