Gear Review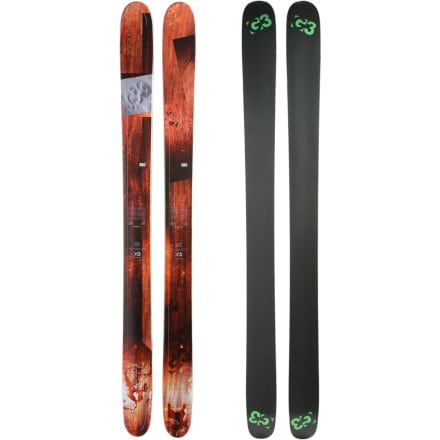 Initial impressions, after a few days on them: The Highball is surprisingly good on soft groomers I tried it out on after new snow. It is actually pretty quick edge to edge, but then I am an assertive skier, and I think the NTN bindings help with cranking them over some too compared to my 7tm/Linken combo I was using. One of the first things I noticed was that the Highballs are not nearly as "hooky" as my Rapid Transits or El Hombres are. They are very smooth when engaging the turn, which in itself is very confidence building for such a wide ski. I think that lack of hookiness is due to the rounded tail edges.

We had a good dump of heavier snow this week so I took them off in the fluff for several forays. Again, they are confidence inspiring, float very nicely, and the shovels and tails kept me above the surface for quicker turns than when I'm on my RT's.

One drawback I noticed during these two days on them is, they don't do very well in bumps or pushed around and compacted snow. In piles of softer stuff, they bash right through, but in the set-up wet stuff that had been moved around, piled up, and then set-up, they got a little squirrely and transmitted considerable amounts of vibration to my legs. Again, that was in heavy, piled up bumps of snow compared to the lighter stuff I was in on day one.

One thing I noticed about the rocker was that they don't transmit nearly the vibrations at speed to my knees that the Rapid Transits or El Hombres do. It's kinda weird, but that was my impression. They DO transmit vibrations at speed going across heavier bumpy junk and ribs in the snow, but then I think any ski does that in chunked up stuff that has set-up.

My color scheme is a Backcountry.com exclusive rather than the blue ones that come from G3.

Update: Road them today at Whistler on chopped up fluff that was in VERY good shape still due to cold weather. Took them off in the fluff several times including Blackcomb Glacier bowl. They absolutely rocked in the softer stuff, quick edge to edge, awe inspiring, and definitely confidence building. I got in the back seat a few times but the tail is stiff enough to stand up on and get back into alignment. My bro in law was jealous with the float I was getting.

These skis bash through the softer piles of pushed around snow with ease, and enabled me to shift quickly into proper position from piles to scraped-off ruts between the soft bumps.

They even performed admirably on the way down the mountain through the firm, icier slopes. Not too squirrelly in those conditions, but you do have to be on top of them.

By the way, after 3 days of use, these skis have a huge sweet spot, and you can just cruise on them as long as you are aware that they are wide skis and you shouldn't drink and then drive these babies.

Day 4 update. Took the Highballs into all sorts of cut up fluff, windpack, heavy snow, lighter snow, groomers, chop, and soft bumps at Whistler today. We were making turns in about 8" of new snow in drifts.

They absolutely shined in the cut up fluff, kept me on top of the windpack and heavy snow and made me holler in the light stuff. Did just fine on the groomers with new snow on top of the corduroy, piled up bumps and even scraped off stuff*. (Dang knuckle draggers. Rolling Eyes ) They have great edge hold on harder surfaces but a whole day of it would wear me out.

I seem to be getting used to making quicker turns edge to edge on the harder groomed snow, so my initial impressions have been confirmed that these are well-built, and well-designed wide rocker skis.

Buy 'em, you won't be disappointed!
View More Details on G3 Backcountry.com Exclusive Highball Ski