Gear Review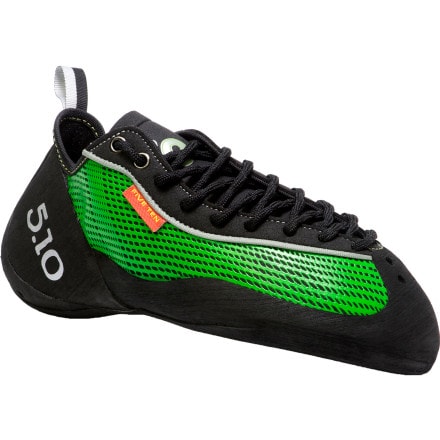 Posted on
Everything I expect out of a climbing shoe
These are awesome shoes! Don't let gripes about sizing fool you!
I tried these shoes at a local store before purchasing them. Every climbing shoe brand has a different fit, and even within brands, shoes will all fit differently and you will hardly ever wear the same size in different shoes. My foot is a size 8.5, and I normally wear a size 9 street shoe. For me, a size 9 Hornet feels pretty good. It's a tight "performance" fit and took a few weeks to break in, but I have incredible control due to the curvature. I could probably sacrifice a little performance and go up .5 size for some extra comfort, but honestly- street shoe size is the way to go.
But, I digress...
I have had these shoes for a little over a year and I am still impressed by how I can stick on overhanging routes yet smear delicately on the slick Little Cottonwood Canyon granite. The rubber has also already outlasted my other shoes. My girlfriend has a pair of La Sportiva Katana shoes that she bought a few weeks after I bought my Hornets and she already needs to get them re-soled. Stealth rubber is hands down the best, and that's why so many companies use it to re-sole other shoes- it just keeps on going and going...
The laces go down to the toes so I can dial in the best, most secure fit. The shoe laces aren't long enough to tie, so I let friction do its thing and simply string the laces through the holes.
The profile of this shoe is relatively wide(compared to La Sportiva and Scarpa) so it fits my foot a whole lot better. My second toe is also just as long as my big toe(Mortons?) and the rounded tip of the Hornets accommodates nicely.
In the end, it comes down to how your feet fit into these shoes. Maybe they're right for you, maybe they're not- But if you do fit into them, be sure to expect a long and loving relationship with one of the best shoes on the market.
View More Details on Five Ten Hornet Climbing Shoe