Gear Review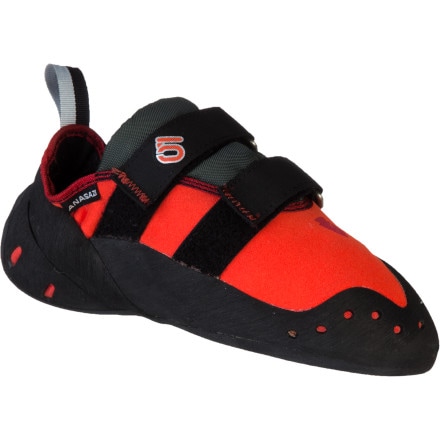 Member since
Posted on
These shoes suprised me the first time I opened the box, they are bright, bright orange. From pictures online its hard to tell, but buyers beware. Anyway, these shoes once I tried them on hurt my feet... alot, usually I try to downsize my rock shoes at least half to a full size, but these I had to go big. I was a little disapointed with the fit and feel, I put them on and took a lap around the living room, and let me say, my toes were numb when I took them off, but never the less I took a leap of faith and bought them.

Two weeks latter...
Once I broke these shoes in I love them, no doubt, one hundred percent. What hurt originally was the tops of my toes that were constantly being forced against the top of the shoe. I later have found out that the perferated rand is there for a reason, after a good five bouldering sessions my feet felt fine, and I'm very glad. How do they preform? Amazingly. I can stand on the smallest micro edges with ease. I can jam and twist my foot into any position I need to in order to make the move necessary. This shoe took me from the world of V1-3, into the world of V4-6. I can now top out on 11a,b,c,d's. And can lead them in the gym too. Let me make myself perfectly clear when I say these shoes don't mess around. Plus the velco dual closure system and split tounge openning allow me to take this shoe on and off in record time, letting my feet take a break. The Cowdura tounge and full lined synthetic upper wick all moisture of my feet and keep me cool as well as dry for long climbs and never ending multi-pitch routes.

The only thing this shoe might lack is grip on overhanging routes. Unfortuanately me, being an avid boulderer, need a shoe than can grip to what ever I thow it on. Infact I was a little disapointed with Five Ten for not finding a way to make their ONYX rubber stickier. But, after all, it is alot harder and more durable than many other rubbers, like Vibram's Ex-s Edge, MadRock's Science Friction, and Evolv's Trax rubber. I have only owned La Sportivas and Five Tens so far, so I'm not fermiliar with the preformance of these other rubbers. All I know is that I love these shoes, next pair might be a more bouldering- oriented shoe, hopefully that will edge similarly to this one. By the way, this shoe has a very wide heel cup, and me having a narrow heal have alot of trouble heel hooking on smaller holds. As far as toe hooking goes, I recommend Five Ten's Stealth Paint. If you can get it to work it provides massive coverage for crack climbing and toe hooks, BUT MAKE SURE you've broken in the shoe before applying it. Like I said the toe does expand and conform to your foot after a while.

In conclusion, I recommend this shoe to people who want to work their way into more advanced, and better preforming climbing footwear. This shoe, being down turned and rather uncomfortable at first, isn't a very good shoe for beginners. Good luck to all the climbers out there, and buyers, if this shoe sounds like he one you want I highly encourage you to get it, it's worth the high price.
View More Details on Five Ten Arrowhead Climbing Shoe