Gear Review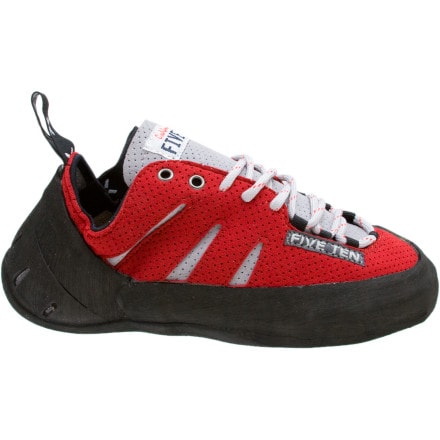 Posted on
Disappointed for the Price
I bought a pair of these around May, and just had to retire them. Unlike other synthetic uppers/linings, the perforated Prisms stretch... A LOT. Climbing 3-4 times per week for 3 months had them stretch about 1 full size on me, which was far more than I expected for a synthetic. In the end, they had stretched so much that the laces were bottomed out, and I could no longer tighten them enough to prevent my foot from rolling inside the shoe when I edged.

In addition the combination of the chisel tip and the super soft Onyxx rubber runs into problems as the rubber breaks in. I found that the side and upper rubber stretched about a quarter inch outwards over the chisel tip, actually making it more difficult to edge. Also, this caused the sides to show much more wear than I normally see.

Finally, while the very soft Onyxx rubber is amazing for slabby work, I found the combination of it plus the extra soft last to be extremely painful whenever I put my feet in any crack and cranked.I would buy these again if they were redesigned with a stiffer rubber/last, a reworked chisel tip where the sides did not bulge over the sole, a non-perforated synthetic upper (or synthetic lined leather), and a snugger heel.

Oh, and just like seemingly every other synthetic shoe, they will smell putrid if your feet sweat a lot. This did not factor into my rating, but others may want to consider it.
View More Details on Five Ten Prism Lace-up Climbing Shoe