Gear Review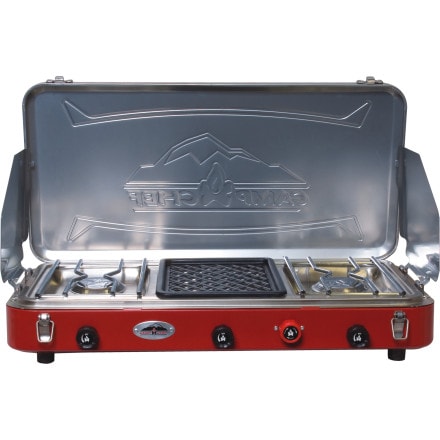 The Good: Two large main burners plus a grill in between. Grill has self-igniter. Grill does a great job on steaks and has a nice bottom removable grease tray. Easy to adjust flame. Easy cleanup. Lots of cooking room.

The Bad: Plastic knobs stick out enough to potentially break. Gas connection on stove sticks out the side opposite the carrying handle leading to inevitable damage. Main burners are NOT self-igniting. No storage bag - you have to buy your own and you'll need one with this baby.

The Ugly: Center grill held in place with 4 flat prongs allowing the grill to slip out with the slightest movement while cooking (then it's too hot to push back into position). The grill self-igniter pin is dangerously easy to stab yourself with when cleaning. There is no easy way to store the propane tube assembly inside the closed stove. If you place the valve end under one of the burner grate corners and weave the tube end diagonally over and under the bars just right - you can close the stove and store it. Figuring this out takes anywhere from a few minutes to several hours depending upon your proficiency at solving 3-D puzzles.
View More Details on Camp Chef Denali 3 Burner Grill/Stove Combo