Gear Review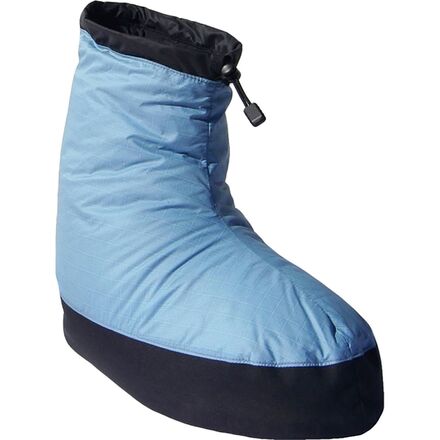 Posted on
Deceptively warm, incredibly light, pack down to nothing.
So, we snowshoe into our camp, drop our packs and set up for the afternoon. When the sun begins to descend I start unpacking some things to help me stay warm. I pull off my Sorels (which are very warm and comfortable), and slip these on. The moment I had them on I remember thinking, 'These are not going to be warm enough.' I remember feeling a shred of disappointment. Regardless, I bought them so I was going to try them.

We set up dinner on our snow table, kick up our feet, and pour some drinks. It wasn't till about two hours later when I realized I hadn't even thought about my feet that it occurred to me how happy I was with these boots. They are so warm and light you won't even realize they are there. They are absolutely worth the price and space in your pack if you're going to be out in a really cold environment.

The only downside, which is really unavoidable, is that they don't have the best traction, and they fit loosely enough that they can sag around your heel when walking around, as you begin to kind of slip off the insole. Also, as a note on the insole, the bottom of my feet never once even felt a hint of the snow or cold. The insoles in these do a fantastic job of further insulating your feet.

All in all... they are a great purchase for anyone who is going to be doing some backcountry backpacking or camping out in the snow and cold. They'll definitely be in my pack on all my future trips.
View More Details on Western Mountaineering Down Bootie - Unisex