Gear Review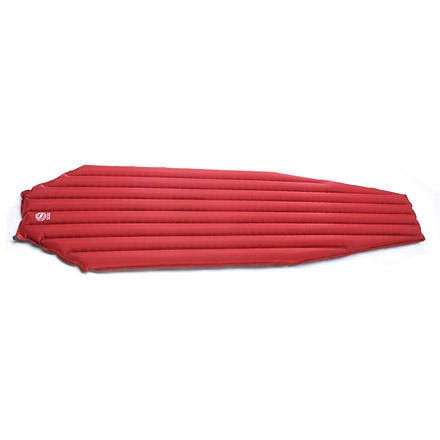 Posted on
Comfy, durable pad for a good price!
I used a few basic foam pads, a Ridge-rest, and then several different self-inflating Therm-a-rests for years of backpacking and camping, and never had a comfortable nights' sleep on any of them (call me the Princess and the Pea).

So, about 7-8 years ago, I bought the BA Air Core Sleeping Pad - Mummy and find it to be the most comfortable pad I've ever tried (I haven't tried the Term-a-rest Neolite yet). It's held up well to all kinds of abuse over the years I've owned it.

I'm 5'8" 145-150 lbs, and as a side sleeper, I find it to be very, very comfortable. The key is to fully inflate it, then lie on it and deflate it a little until it feels just right. Fully inflated is too firm for me, but let some air out and it's more comfortable than my regular mattress. It's also roomy enough that I never feel like I'm falling off (but that could be from years of practice sleeping in high hanging bunk-beds where a fall would be fatal and one must know exactly where one's body is in relation to the bed at all times).

It does take some time to blow up (but less than a pool mattress - I've tried those too, but this is far more comfortable, packs a lot smaller, and is way more durable). And even on cold nights, I never had it deflate.

As for packed size, I can fit it *into* a Nalgene bottle, no problem. I fold it into 4ths lengthwise before rolling it... So, I think the key to making it small is knowing how to fold/roll it - experiment to find what works best for you.

This summer, it developed a slow leak at my last camp and I had to re-inflate it in the middle of each night. :( Hopefully, I can find the leak and patch it - if not, it's supposed to have a life-time warranty! My guess is that it may be from storage (I leave it loosely rolled up in its stuff sack) or just old age... But that said, it's lasted longer than my best light-weight Therm-a-rest (which popped from a cinder and wasn't repairable).

As for the cold, it definitely does NOT insulate well. But that makes sense - it's an AIR mattress for crying out loud! It doesn't have any kind of coating to reflect body heat back or keep out ground temps. The solution for me is to either use a space blanket or a cheap foam pad under it for fall/winter camping (which also help to keep it from sliding around on the ground).

A weight-saving option would be the BA Clearview Air Pad - Mummy (http://www.backcountry.com/outdoorgear/Big-Agnes-Clearview-Air-Pad-Mummy/BAG0129M.html), but the polyurethane is probably not as durable as the 70 denier nylon laminate of the BA Air Core Sleeping Pad - Mummy.

Overall, I think it's the best bang for the buck for a comfortable sleeping pad (and lighter than most at less than 19 oz. for the regular size).

If you don't want to shell out 3xs the moolah for the Therm-a-rest Neolite and can spare the extra 5 oz. or are worried about the durability of the BA Clearview Air Pad, then this is a super sleeping pad to buy - your aching back will thank you!
View More Details on Big Agnes Air Core Sleeping Pad - Mummy