Gear Review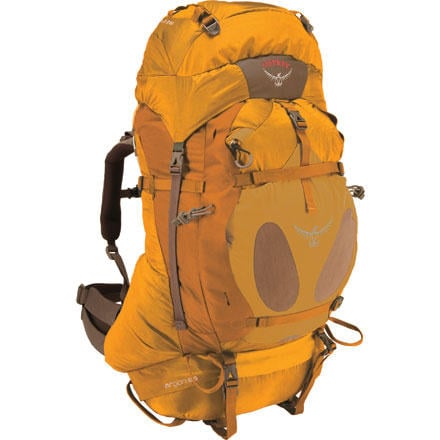 Posted on
Comfortable, but it takes practice to load and adjust correctly
This bag can definitely take the weight. With 2 weeks of expedition gear and rations being hauled over boulder and snow fields, around steep ledges/ lakes/ reindeer trails... I always felt like I could count on this pack to not destroy my back/ hips. I really like the side water bottle holder that is a type of nylon fabric and keeps a 1 liter Nalgene completely secured away. I also tucked my map for the day into this pocket with the water bottle. The brain is a good design but I would have preferred one pocket instead of the two (one small one large-- the small is useless). The outside mesh with the osprey logo on it is a waste of material in my opinion, but came in handy for picking up random trash. The gear loops on the bottom of the bag I cut off mid trip and fashioned them into a belt for my pants when I lost mine, I wasn't sad to see them go as it was one less thing that could potentially snag. The brain I would also take off and empty and use as a seat around camp to keep dry and warm. It's supposed to be a day pack but it wasn't ever particularly useful for me-- it wasn't comfortable to wear as a fanny pack and too small to keep a essentials like an extra layer, first aid kit, and water in for a day hike. That being said, I do like the false bottom and compression straps for keeping a small load in a large pack for impromptu peak ascents on an expedition.

The bag material is good quality, this is my second osprey bag and the other I use for canyoneering. Both have taken a serious beating on rocks and still look new.

That being said, this pack is kind of like a fancy car in the outdoor world. It looks good, but it isn't always the most functional for the way that I've taken a liking to packing. Too many straps/outside pockets and with the frame, it can be hard to really stuff the bottom of this pack full. I'm a big believer in keeping everything your hiking with secured inside the pack so you're not leaving a gear trail to your campsite, and to keep everything dry by lining the bag with a garbage bag and tying it off at the top.

Overall, I like this pack and I'll continue to use it, but the next expedition pack I get won't have so many external pockets and other features that are really more of a design element.
View More Details on Osprey Packs Argon 85 Backpack - 5100-5500cu in