Gear Review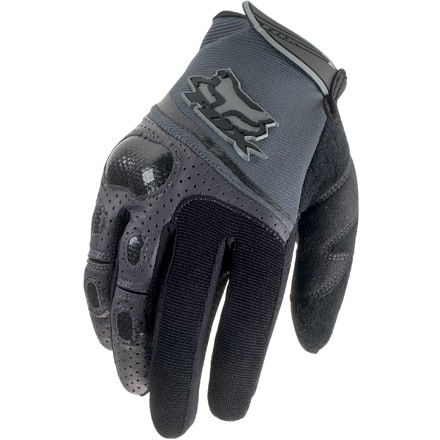 Posted on
Comfortable and Great Protection
I decided after a crash marred my hand that I need some better protection from my gloves. A friend of mine recently bought these for a trip to Fruita and recommended them, saying they weren't as hot as you might think. I'm glad I took his advice.

First, fit: I'm usually on the border of L and XL in gloves, and after reading these run a tiny bit small I went with XL. First ride they were just a smidgen too big, but a single wash shrunk them to just the right size. I agree that you'll probably want to size up if you're on the fence at all.

While these may be billed as FR or All Mountain gloves, I use them for XC just fine, even for racing. They breath astoundingly well for how thick they are, and they're really comfortable with minimal padding and good finger grip. The fingers have just the right amount of pre-bend and they are comfy on the bike for hours at a time in heat and even humidity. The terry patch is also great for wiping your nose or sweat off your brow or gunk off your glasses. Those little touches are always nice.

As far as crash protection, they're great. The faux-carbon plastic plates are in just the right spots and do wonders against not only the ground but rocks and tree trunks (I had wide bars and don't always squeeze quite right into tight spaces). I really don't feel as comfortable riding with my lightweight gloves anymore knowing that they won't protect me as well.

The only downside is they didn't have the black in my size so I got the white, which immediately turned a splotchy light brown. Of course, if I were worried about keeping my white things white, I would go ride on the road and start measuring my power output very carefully.
View More Details on Fox Racing Unabomber Glove - Men's