Gear Review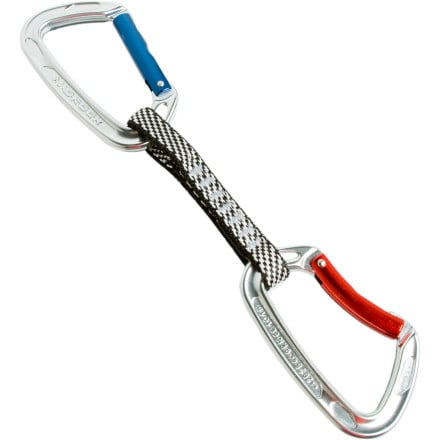 Posted on
Cheap price - haven't felt unsafe or scary yet :D
For being pretty lightweight, especially for non-wiregates, these things also feel very secure in the hand and when taking falls. The gate action is quite smooth, closes quickly, and the gate doesn't wiggle much, if any. The keylock style keeps it nice n clean for any route whether clipping or cleaning.

The keylock is bent a bit further downward than i would like, and can lead to a bit of scraping on bolts, but overall for the money it's still a great keylock biner and cleans like one. Despite most initial reactions to Mad-Rock products, i was skeptical at first too, These were an awesome purchase for the price (about $10.50 a draw after shipping costs on SnC).

Dogbones are Dyneema and a bit thicker than others i've used (not compared to nylon), and came in a green/white checkered pattern instead of the black/white pictured. no biggie. Blue/Red color coordination helps keep things organized a bit more and I'm a fan.

It's hard to see in the picture, but there are notches on each gate and they really do help both with grip and with clipping, especially on the rope end.

A+ product, especially for being mad-rock. If anything negative happens with the ones I purchased I'll write a followup review. Had em about 5 weeks so far and I doubt they're perfect lol. Definitely my go-to draws now, though.

Go SNC!!
View More Details on Mad Rock Ultra Tech Quickdraw