Gear Review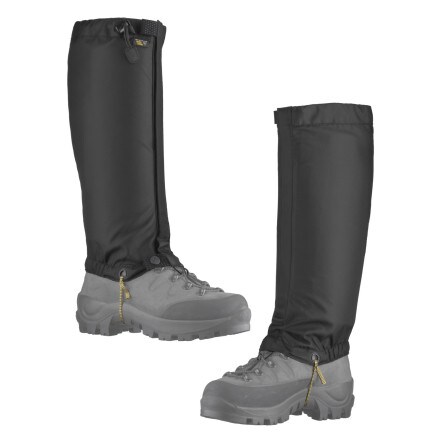 Posted on
Cheap and to the point
I'm saving the 5 star rating for the company that makes a cheap gaiter with a zipper covered by a velcro flap.

These gaiters use a full velcro opening which takes a tiny bit of effort to close smoothly as you're trying to tuck in your pant legs. If you're not careful the velcro can get bunched up or off track. But if you start at the top and carefully work your way down you can close the front securely. Once employed they did not come open after two days of rough hiking through the pines.

The nylon cord at the bottom needs to be tied off to fit around your boot. Do it once and you'll never need to adjust them again unless you change to a different size boot - so put in a good knot and forget it. If the cord ever breaks you can replace with any shoelace or cord.

There is a metal hook at the bottom front to catch your shoe laces. This keeps the gaiter from riding up on you. It works fine.

There's a snap on the top and a draw string with spring loaded fastener to make for a really tight fit. It did not slip on me at all...in fact I had to loosen it because I pulled it too tight - so no snow is getting in at all.

Great buy. Why would anyone pay more? Well maybe I'd pay $5 more for a zipper.
View More Details on Mountain Hardwear Nut Shell High Gaiter