Gear Review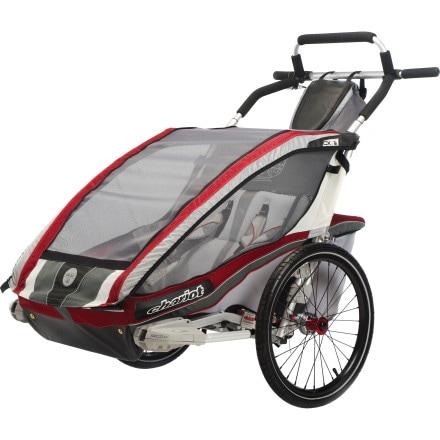 I can say without hesitation this is my FAVORITE piece of equipment I've ever purchased as a parent. My biggest regret is that I didn't purchase it sooner. We bought this in 2008 and it is still being used. We lived in Texas and it had great ventilation during hot summer walks. (Not all trailers have this, so if you live in the south you might want to keep that in mind when shopping.)

During camping trips it puts the kids to sleep and they're comfortable enough in the reclined, cushioned seats that you let them nap in it. We've used it closed up during the winter (now live in Michigan) and throw a blanket in and the kids have always been snug as a bug.

My youngest are now 8 & 5, and we biked all summer to swim lessons in it. Now, my eight year old is getting a little tall, but both boys napped EVERY single day in the 16 mile round-trip ride. And the storage in the back was more than ample for two beach towels, bike locks and a shoulder bag for me. It is great exercise, and an unbelievably smooth ride.

It is expensive, no doubt about it. But I am a very detailed person, and I believe this Chariot has been extremely well thought out. I cannot find any complaints after over four years of use. Also, it was looking a bit dirty so I gave it a good cleaning this summer and it looks great.
View More Details on Thule Chariot CX2 Stroller