Gear Review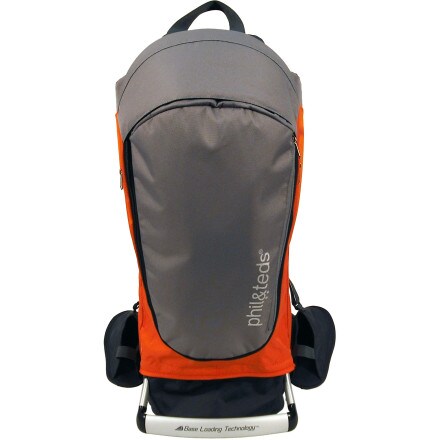 This is the best backpack-style child carrier on the market. It has the most features for the dollar by a long shot. In fact, it also has all the features you get on other more expensive carriers and then some.

It is very comfortable for a kid carrier. The nature of what you are carrying will lead to weight placed higher and farther from your back than you would normally carry. Don't expect this to feel as good as your high-end internal frame pack -- it's not the pack's fault, it is your kid's. That said, this was the most comfortable and adjustable of all of the packs I tried.

It comes with a changing mat, a shade, and a rain shield standard. It also has a removable section that becomes it's own small daypack (can't carry the kid in that part ;) but it would be good for sharing the load since you never bring just your child anywhere -- there are always diapers, toys, extra clothes, etc.).

If you are actually planning on backpacking with your child, this is definitely that pack to buy. It is very durable, very well made. The only complaint I have is the way the sternum straps are attached to the shoulder straps. They are adjustable, which is good, but they are attached via a pinching plastic tube, which can be pulled off if you tighten the strap too tightly, too quickly. It is not hard to put back on, but you will want a putter knife or something to pry the tube open enough to get it back on. Anyway, it is a minor nit, and not a problem once you know not to do it.

Buy this!
View More Details on Phil and Teds Escape Baby Carrier