Gear Review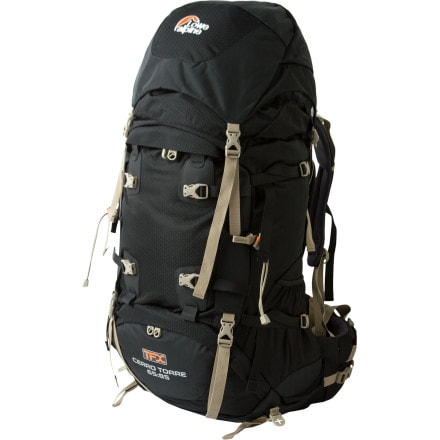 I purchased this pack in August 2010 for multi-day backpacking and peak bagging in New York. I packed it up for the first time and realized I needed it's bigger brother, the Cerro Torre 75:95 XL. The reason I needed the extra capacity was mainly because of the mandatory bear canister law the Adirondack High Peaks have. I sent the 65:85 back & received the 75:95 XL shortly after.

The pack material is literally bullet proof, I love it! Definitely the type of material that will last & last even after serious abuse. The sleeping bag compartment is deep and roomy. The sleeping bag compartment holds a 15 degree down bag stuffed in a compression sack, an inflatable mattress, an MSR Reactor stove and a Nemo Fillo pillow I just acquired (great investment)!

In the main compartment, as mentioned above, a store my bear can, fully loaded w several days worth of food and hygiene gear. Also in the main compartment, I have two water proof stuff sacks filled w my warming layers and extra pants. The pack has a generous hydration bladder pocket, but when loaded w a full bladder, sticks out and consumes a lot of precious space behind the bear can. The top lid has a top opening pocket and a small packet on the bottom side of the floating top. Both pockets are very useful, but could be a bit bigger.

The pack has two sleeping pad straps attached to the lower portion over the sleeping bag compartment. In the colder months, I tend to use a closed cell foam pad along with an inflatable mattress. The sleeping pad straps could definitely be made longer. I have to fight with them just to attach my Z-Rest. The two water bottle pockets on each side are deep and hold a 1 liter Nalgene quite well, but are a two man operation to use while on the move. There are two ice axe holders with trekking pole attachments built in. I think the trekking pole attachments are a great idea & I have enjoyed using them.

My gripes - During a four day trip a couple of weeks ago, the hip belt buckle would separate on its own while supporting approximately 65 pounds of gear while on the trail. This proved to be extremely annoying and disappointing. I was not able to stabilize the weight/load on my hips where it should be. After my trip, I contacted Lowe Alpine (great customer service!!) and they sent me a replacement for free. The replacement seems to work fine and Lowe Alpine is still working with me to assure that there are no other issues with the pack. I also really wish Lowe Alpine would incorporate hip belt pockets & a removable lumbar pack. The adjustable suspension takes time to dial in and get used to. After a month with the pack and about a weeks worth of time in the field, I am still adjusting to find my sweet spot.

So far I am very pleased with this pack and Lowe Alpine's customer service. I highly recommend giving this pack a chance when looking for a well built work horse. The four straps on the front of the pack are meant for compression, but are not really useful. There are many lash points in the same area, which make attaching a day pack or snowshoes very easy. Great pack!
View More Details on Lowe Alpine TFX Cerro Torre 65 - 4000cu in