Gear Review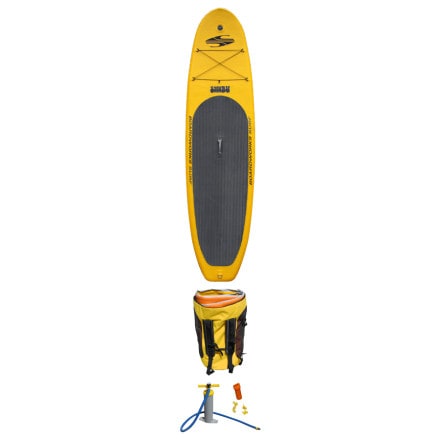 Blow'n up!
Member since
Posted on
This "Show up and Blow Up" board is a treat! Here are my impressions.

* convenient - I live in a tiny apartment, so this is really the only feasible way for me to own a paddle board. It does store fairly small, so this was really the only way for me to participate in stand up paddle boarding. While it is honestly kind of a pain in the "you know what" to blow up, that seems to be a reasonable sacrifice/trade-off for me.

* stable - I am a relatively new paddle boarder, but I found this board to be infinitely more stable than the other two traditional hard and soft top paddle boards I have tried out. When using it, some of my friends didn't actually even realize it was inflatable!

* AWESOME to travel with! I just took this on a flight back east, and it was a breeze! I just rolled her up in a snowboarding bag with wheels. I added a few bundles of clothing to protect my paddle, and it was awesome! Obviously not as simple an option with a traditional hard board, so SHUBUs are excellent travel buddies.

*SHUBU paddles like a dream in smooth water, I have yet to try river running, but will update this review when I do so. Choppy water paddling, not ideal, but still learning, so this could be a user error type situation.

*Included travel bag seems sturdy and haven't had any issues with it thus far. I did actually upgrade my SUP pump, since the one that came with was kinda dinky.

----OVERALL-----
Pretty awesome, I love this thing. I've had a blast taking it out and will continue to do so all summer. I am loving that it is such a breeze to travel with. I will be taking it up to Wyoming next week to explore some rivers/lakes. I would definitely recommend this for new paddlers or those who have storage limitations.

**** UPDATE****
River performance: awesome. I am no river expert, by any stretch of the imagination, so I was terrified, but the Shubu did awesome! I even straddled a few rocks with no harm at all to my board or fins. I did take the large, main skeg out, since this was a shallower river. Without the skeg the board was a bit squirrely and hard to control, but that was the only option with the low water levels. I did class I and II rapids with no major problems. The board did so great. It was more rigid than I expected, and I had an absolute blast!!
View More Details on Boardworks SHUBU Inflatable Paddle Board