Gear Review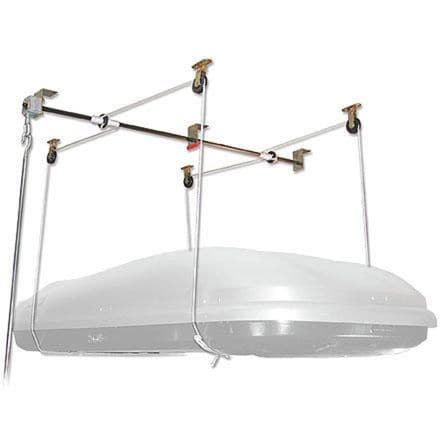 I have 23" of clearance between my ceiling and the top of my garage door (when it's open) and I was able to get this and my Yakima 16S to just fit when mounted to 1x4s. For those who are in a similar situation, the highest point of of the lift is about 3.5" in the center bracket.

This thing was a total bear to set up. A neighbor helped me and even taking suggestions from reviewers on Amazon, such as measuring and doing as much as you can before mounting it, it was still a lot of work to measure where on the ceiling to put it and where the studs were in my ceiling. Though it was a lot of work, I am so, so happy to have my box up above my car now, saving space and also making removing and mounting the box on my car that much easier.

The rope in the kit is chintzy and I will probably replace it soon.

Bottom line: The kit is a little overpriced, is a total pain to install, and comes with so-so rope but is totally worth it if you have a gear box laying around your garage making your life hell.
View More Details on Thule Box/Storage Lift