Gear Review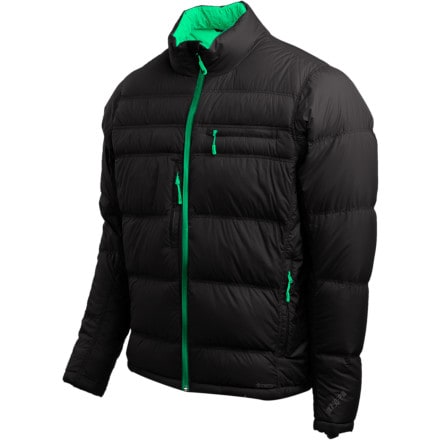 Posted on
Black/graze in small
I am 5'10'' and about 155lbs.

5 stars means I love this jacket and I really do! This quickly became my go-to jacket for braving the cold: much lighter, warmer, and easier than the fleece and heavy shell combo I had been using before. I've tested this jacket in 10 F weather wearing nothing below it but a t-shirt, and while I wouldn't say I was toasty warm I was certainly well within my comfort range. Very nice! I've also used it comfortably up to about 40 F. I LOVE the cuffs on this bad boy. They hug your wrists to keep the warmth in and the sleeves from getting in your way. They're also super stylish! MUCH much better than the cuffs on any of the competing jackets from Patagonia or TNF.

One thing that took some getting used to was the hand pocket insulation. There is a fleece-like lining (might be actual fleece) only on the outer side of the pockets. On the side that is closer to your body you just have the pertex fabric, which feels less cozy than the fleece. Not really a big deal and once I got the right size (see below) the problem vanished entirely.

A note about sizing: I first got a medium, which was a decent fit, but a little large for my tastes. The main issue was that the jacket was a little long and stuck out beneath all the raincoats I had. I managed to snag a (the last?) small and it fits me like a glove. A really well tailored glove. With the chest on the small a little closer in the weirdness I was experiencing with the hand-pockets went away because the jacket keeps my hands snug against my body. The picture here is of me wearing the small and the second picture is of me in the medium. Note that the medium fit isn't bad, but that the small fit is great.

tl;dr A super warm, super fly jacket that has awesome cuffs. Seriously, the cuffs rock.
View More Details on Stoic Luft Down Sweater - Men's