Gear Review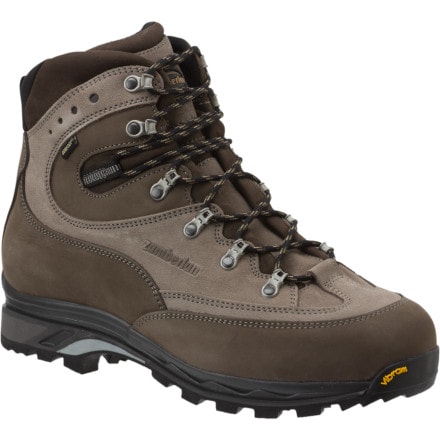 Posted on
Best backpacking boot I've ever owned
I'll preface this review with my cut and paste statement that I work as a backcountry backpacking guide in Yosemite National Park. Nearly all of the products I take the time to review have seen at least a half a season, if not more, of use... and I'm committed to not bothering to write a review until I feel like I've really gotten to know a product. I never thought I'd bother to write reviews, but I've recently decided that since I've spent so much time over these last many years reading reviews, and finding a tremendous amount of value in articulate and well-informed opinions, that I wanted to give back to the community. So, with that being said, here we go...

The Zamberlan Steeps are my 'go to' boot for backpacking. Almost without exception my pack weighs in between 25 and 40 lbs, so use that as a reference for the kind of loads I'm carrying while wearing these.

There's this anecdotal statement that kind of grates my nerves that one pound on your foot is like having three on your back. There is a bit of truth to this statement, but bounding around moraine or talus in trail runners is a recipe for disaster, and as far as I'm concerned, its irresponsible. If you're carrying a significant load on your back and you're off trail then you need ankle support. Period. If you don't have it you're forcing your ankles to constantly do the work that a boot could be doing for you. And, on those rare occasions you're staring at the scenery while walking along and your foot grabs a rock the wrong way, you'll be glad you have ankle support. On many occasions I've had a boot, and this one in particular, save an entire trip because I misstepped, wasn't paying complete attention, or was simply a little tired.

No, these boots are not feather light, but I wouldn't call them heavy. However, they are incredibly comfortable out of the box, though I always suggest breaking your feet in to the boot, and getting some callouses ready for a trip.

My biggest concern with boots are my low volume feet. I wear about an 11.5 with a width of B or C. Shoes like Keens in my size just flop around on my feet. Most Zamberlans that I tried simply never felt like they were comforming to my feet. However, even with the stock insoles (which are not very good, by the way) the boots were quite comfortable out of the box. (I use Ed Viesturs thermoform insoles, and highly recommend them. They do a great job of filling up a high volume boot for a low volume foot.) I initially tried 11.5s, and was a little wary of only having about a half an inch or less of wiggle room for my toes (this is with a medium weight Smartwool sock). I tried the 12s and was swimming in them, so I settled on the 11.5s. 90% of the time I hike wearing trekking weight Smartwools. I've tried liners, and like them on occasion, but the trekking Smartwools with no liners are my standard.

After spending an entire season in them (nearly 60 days total in Yosemite and Kings Canyon) I can say that these boots can truly take a beating. I have had minor issues with sharp talus or moraine scraping up the outer stitching to such an extent that it'll eventually compromise the soundness of the stitching, but they are still going strong. I think one pair will last me a couple full seasons.

Waterproofness is good, not amazing, but good. Hiking all day in the rain will leave your feet a bit damp, but not so much so that your feet will be ruined. Granted, they are not as supremely watertight as something like an Asolo Powermatic, but Asolo's require half their functional life to be broken in. Most people I hike with, whether they be clients or fellow guides, wind up duct taping their heels when they wear Asolos. Not so in these. I have had very, very minimal heel rub in these, even seeing days of 10 to 15 miles with altitude gains of 4000 or 5000 feet. And that's with my narrow feet. Downhill is slightly more problematic, though not too bad. My toes will hurt a bit after coming down 5000 feet over the course of 12 miles or so. A stop to soak my feet in some freezing cold water mid-day will do the trick, and then I'm good to go. Never lost any toenails, or even had any pain at all that I wouldn't call perfectly normal after a long day.

Traction has never been an issue. Ever. I've seen people complain about the Steeps being poor on wet rock. That's nonsense. I've had these up and down the Mist Trail, dodging dayhikers on wet granite, and never once felt that they were providing less traction than they should. I spent nine days in these boots in Kings Canyon, bouncing around moraine, and never once felt they were doing anything but a fantastic job.

The greatest recommendation I could give these is that I've purchased three spare pairs on sale, and am stocking them for the future. They are that good. Yes, they're expensive. No, they are not light. However, they are easily the best backpacking boots I've ever worn.
View More Details on Zamberlan Steep GT Boot - Men's