Gear Review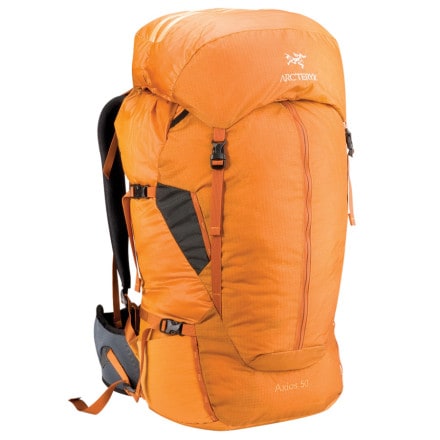 Posted on
Axios 50 - Not as good as I expected!
I've had this pack on my wish list for over 2 years! So, when I finally bought it I expected much more...
To begin, the hydration pouch is on the side of the pack and, it's too small. Living in the desert, I need to carry ample amount of H2O at all times, typically greater than 3 liters. I haven't tried but I bet you'd have a difficult time getting just 2 liters in there, certainly no more and, there is no loop to hang the hydration bladder from. It is designed to suspend your bladder and that's it. Carrying my H2O bladder the other day, I had to rest my 4 liters of H20 on the bottom of the pack. As a result, my hydration tube could have been a few centimeters longer. I was also on a day hike, ended up being 17 miles overall, with plenty of gear including extra clothing, stove, fuel, food and my snow shoes, all of which fit in the pack - pack is very spacious. However, the snowshoes, awkwardly bulky as you can imagine, sat in the bottom of the pack, along with my hydration bladder and everything else, with a level of discomfort that extended below my butt. Yes, below, making it quite uncomfortable (I actually strapped the snowshoes to the outside of the pack for the ascent and reverted to squeezing them inside for the descent - I really couldn't tell you which was more uncomfortable). Possibly, you're thinking, "this is a summer pack, how do snowshoes fit into this equation?". Well, I live in the desert and needed a 50L pack and, love Arcteryx. Now, with all adjustments attempted, I could not find comfort with this pack. The back panel was very slightly uncomfortable, I could not keep the pack off my shoulders (I enjoy a fully-weighted pack riding on my hips only), cinching the shoulder straps tightly on my body was actually the most comfortable position (although certainly not my favorite) and, I could not get the hip belt tight enough. Also, with all gear as balanced as possible inside the pack, again considering the bulkiness of the snowshoes, I could not get the pack to ride balanced on my back. As I stated earlier, I really unpacked, packed and, made every adjustment possible. I wanted this pack to work for me! It didn't! On the brighter side, it's fairly lightweight, durable, spacious, with plenty of zipper access to gear inside the main stuff sack. Just couldn't make this one work for me.
View More Details on Arc'teryx Axios Backpack 50 - Men's - 3051-3661cu in