Gear Review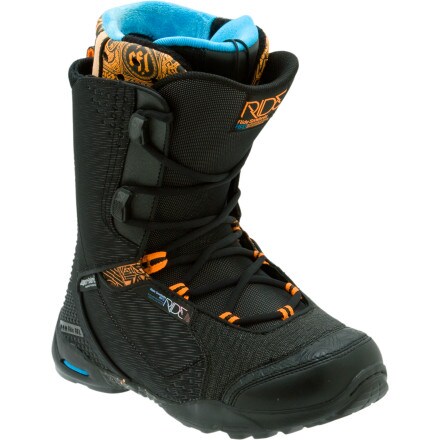 Days Ridden with this gear: 4 Days on Mountain
Conditions: Varied, from ice/low coverage to a foot of powder
Where: Hunter Mt., NY - Stratton Mt., VT
Other Relavent Gear: Nitrane (9-11), Machete (162)

Gear Specific: I wear an 11.5 boot. This boot *might* be a touch smaller than other boots - the 11.5 FUL felt a bit less snug initially than the RFL did. Still, the RFL is packing out to be perfect.

Flex: I've only gotten 4 days on the mountain with them so far, so I don't think it's broken in completely. I'd rate them currently at an 8, out of box around 8.5-9, and if I have the final point correct in my head, probably finish breaking in around 7-7.5.


Pro:
-These boots are *LIGHT*. Just walking around feels like you're wearing a sneaker. Hardly notice they're there.

-Supportive. Even though they're comfy and light, they're still stiff around the ankle and calf to give you loads of support.

-Smaller shell. This might not matter to many people, but if you're an 11.5 like me, that means you're stuck getting XL Ride bindings (11-13), and wide boards. This boot is at *least* a half size smaller in outer profile than other boots, if not a full size. So I fit it into a 9-11 Nitrane and a 9-11 Delta just fine.

Con:
-Not as warm. It's slight, but with my old boots (some burton shaun white ones I got when I was learning), I never had cold feet (even in -20 degree weather). With these, my feet are cold for the first run or two, which is a new feeling for me. Very very minor concern. Granted, this is in 0-5 degree(F) weather (with 15-20 degrees of wind chill).

-Smaller shell. I can imagine someone out there that's a size 9, with a binding that just shrinks down enough to fit their size 9 boot, but would be too big of a binding with the RFL. For me, this is a positive, but it's something to be aware of.
View More Details on Ride RFL Snowboard Boot - Men's