Gear Review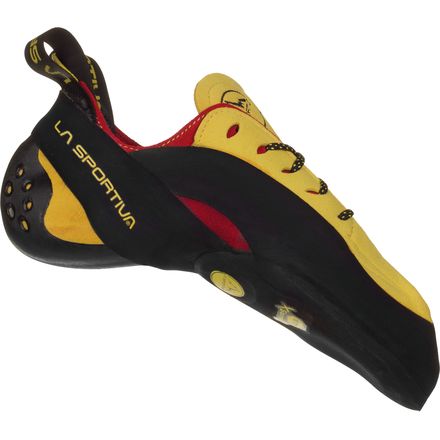 Sizing: I wear a 9 in Nike AirMax 2012s and a 9.5 in Sperry Original Boat Shoes. I wear my shoes as tight as they will get without hotspotting. I generally wear socks with my shoes but for the first week or two I usually cant stand to have the socks on with the shoes (break in period). I wear lace up Miuras in size 40 and 5.10 Arrowheads in a 43 (US10).

I wear testarossa's in a size 40 and feel like they fit the same as my other climbing shoes.

This being said, I don't think everyone should size this way. I barely pull these on. They make that suction cup sound when I put them on and off. My room mates gf wears a size 7 street and thinks her scarpa vapors in 40.5 are really tight.

The downturn is awesome. Our gym here has a bunch of overhangs...as steep as like a 60 degree from north (if that makes sense). I immediately felt like I could toe holds better than with my arrowheads or miuras. It wasn't magic, but definitely a noticeable improvement.
Toe hooks arent bad either. I didnt feel like I lost any capability to toe hook between these and my arrowheads.

Theres a V8 under the overhang with a heel hook crux move and these shoes handled it just fine. People talk about the heel giving out on them but I didnt feel they were really any worse than my other shoes. I didnt even tie them up... theyre soo tight right now lol

They have a padded tongue and the shoe feels great barefoot.

These are my new favorite shoes! (although I wish they were cheaper!) Hope this helps!..esp with sizing since when I bought mine there werent many helpful reviews.
View More Details on La Sportiva Testarossa Vibram XS Grip2 Climbing Shoe