Gear Review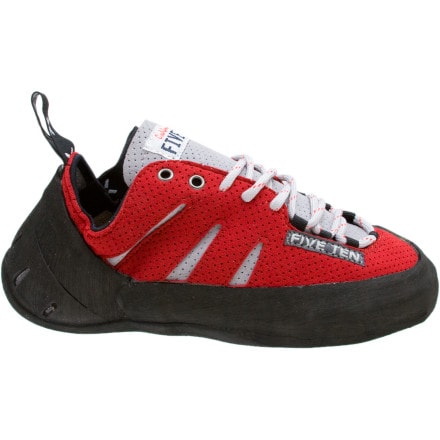 I've recently got back into climbing and found that I had the need and the money to replace an old pair of Five Ten Spires that I had. I wanted something a bit more aggressive and I liked my first pair of Five Tens, so I decided to go with the Prism. Here are my impressions after trying them on and using them at the gym for one day.

PROS: I like that these are lace up and the toe looks sharp and killer! I think these will help me take my climbing up another level.

I thought it might be slightly difficult to smear, but it was surprisingly easy. I was impressed.

CONS: Sizing on these is crazy! Main reason for marking them down to 3 stars. It's almost as if Five Ten doesn't want you buying their products off the internet. I wear 9.5/42.5 in almost all brands and shoes that I have worn. However, my last pair of Spires was a size 8 (full leather so they stretched). So I originally ordered down. Way too small. I eventually returned and got 9.5s, but even these are a bit small. I think/hope they will stretch enough to be perfect.

I wouldn't fool myself into thinking that the special Perflex upper is going to 'ventilate' my foot though. Unless 'ventilate' means 'turn into a sweat box'. And it doesn't take long either, maybe 30 minutes for me.

CONCLUSION: Disappointed by the sizing scheme, but impressed by the performance so far. Overall I would give it 3 stars at this point.
View More Details on Five Ten Prism Lace-up Climbing Shoe