Gear Review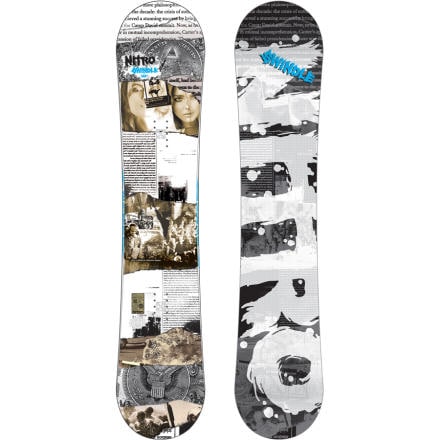 Posted on
Any time, any where
The 2010 TWS Good Wood winner, the Swindle, is probably the best value we at Nitro offer. For fewer than 4 bills you get a board that will put more expensive boards to shame. If you're looking at the DH, Darkstar, Twin, Graft or any other twin park deck in the $450 price range make sure you look at the Swindle first.

For 2010 we updated the Swindle with a softer Street Flex, perfect for pressing anything in sight as well as added our flat Zero Camber for a catch free and predictable smooth ride. These new construction features join the already impressive fast as 4#!! Scratch and Rip FH base and the thickest edge on the market, the Rail Killer Edge.

The Swindle is Jon Kooley's board of choice and the basis for his Pro One Off. Kooley rides the Swindle everywhere from SLC rails to Alaska wedges. The Swindle will definitely help take your riding to the next level and will look good doing it.

Like you the Swindle is unique. After taking all the damage you can dish out no two Swindle boards will look the same. Thanks to our Scratch and Rip FH base you can show your scars with our double layer base that lets a pop color bleed through the scratches you make from hitting rails, stairs, rocks and stumps. Show us your scars and your personality with the Swindle.
View More Details on Nitro Swindle Snowboard