Gear Review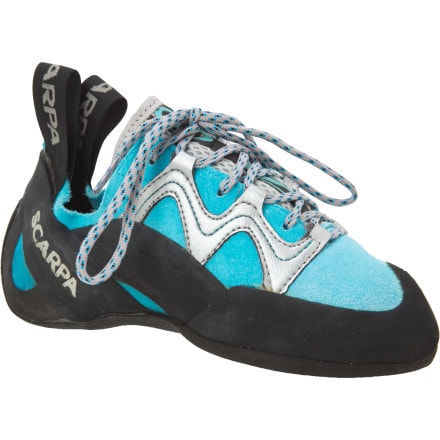 Scarpa runs small, I am a half-to-full size bigger in Scarpa climbing shoes than I am in similar Sportivas (usually a 34.5, I ordered 35 and 35.5)

Lets preface this review by saying these shoes just weren't a good fit for my (admittedly tiny) feet. The big toe-to-heel length was great-to-good in the 35 and the 35.5, but in both sizes, it felt as if my 2nd smallest toes were being broken if I had to put any weight on my toes. I chock this up to having a bit too much room at my 2nd and 3rd toe that allowed my smaller toes to slide towards the center.

That being said, these suckers sure can grip. When I wasn't standing around in them looking at a problem and actually on the wall, the discomfort was easier to ignore (and all my toes remain unbroken) as I was working my way up the wall gecko-style. The bend of the shoe is pretty damn aggressive, I'm not sure if it's as dramatic in the bigger sizes.

Bottom line: great shoes (if your toes are the right shape and size) for an aggressive female climber. If my feet didn't fit so poorly in them, I'd have kept them in a heartbeat.
View More Details on Scarpa Vapor Climbing Shoe - Vibram XS Edge - Women's