Gear Review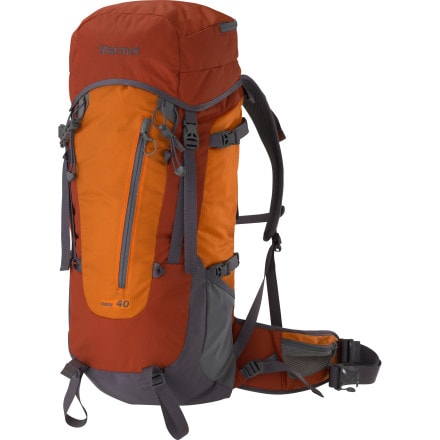 So I really like the idea of this pack. Minimalist. Do-all. Rugged. Living the dream right? I just took it on a few days of AT hiking with my 7 year old son and dog, and here are the first impressions:

Pro's:
-Nicely sized: I could see doing five days solo with this thing during summer months, or taking it on a day trip without feeling like a tool.
-Felt very secure on my back with about 30-40 lbs.
-Floating lid for size expansion (or removal) with pocket sized nicely for first aid kit, water pump, light tarp. Side mesh pockets for a bag of trail mix and a poncho. Hip pocket worked well for a small camera.
-Lightweight-ish.
-Price.

Cons:
-I did not find the pack comfortable to carry over an extended period. The lump of foam used as lumbar support concentrates the load over the lumbro-sacral junction meaning sore lower back. The hip pads then form a gap around the rear hips before tightening on the front hip bones creating another pressure point there. Additionally, the flexibility of the hip belt combined with the angle of the load lifter straps causes the top of the belt to peel down as the bottom of the pack is cinched over the hips.
-Quality control issues: the above mentioned lumbar pad was sewn onto my pack slightly crooked. I noticed similar defects in one at a local store. the pack also came with a couple of the fast-ex buckles attached backwards, and i noticed some crooked bar tacking. The pack is offered at a wonderful price point, but maybe at a detriment to consistent quality.
-I would have rather seen a simple double daisy chain configuration than the external lash tabs and dedicated ice axe bungees.
-The location of the internal security pocket is impossible to access when the pack is full. A small pocket and a couple lash points on the lid would be nice
-Bought at full price two weeks ago now they're 20% off. But that's my B.
-Can't stand the orange color in person. But that's me too.

A nice idea for a pack with a few key details poorly executed. Seems like it might work best with a lighter (under 25lb load) and over winter clothing, although the pressure points seemed more due to the load stabilization (ie horizontal compression over the hips) than the weight. I'll see if I can make it work, but in the interest of the do-it-all dream, may trade it in for something that will comfortably carry a load.
View More Details on Marmot Odin 35 Backpack - 2150-2300cu in