Gear Review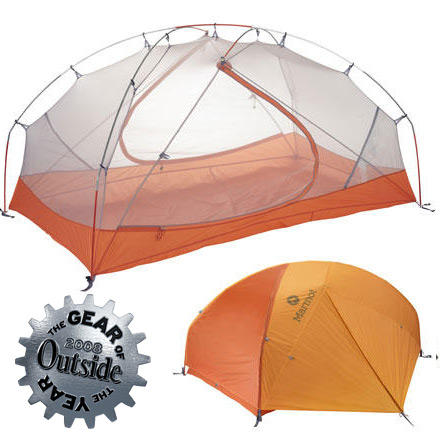 Actual Marmot Aura Weights
Member since
Posted on
These are from my digital home scale, which is quite accurate, and precise to the gram.
Poles - 490g
Fly - 799g
Body - 737g
4 Stuff sacks - 91g (for Package, Poles, Footprint, and Stakes)
Pole Splint - 11g
I didn't weigh the included stakes, nor do I use them, they're junk

I also have a few aftermarket accessories

Marmot Footprint - 253g
6 MSR Needles - 58g (as Groundhog's don't fit in the stake tape)
4 MSR Groundhogs - 67g
50ft Kelty Triptease Guyline - 39g (the included guyline is golden 3mm nylon cord)
Marmot Gear Loft - 40g (Modded to halve weight and improve fit - see my review of it)

Leading me to these weights for different setups

3lb 6.4oz + stakes&guys "Barebones Pitch" (poles+FP+fly)
4lb 7.5oz + stakes&guys "Trail Weight" (poles+body+fly)
5lb 9.5oz "My trail weight" (poles+body+fly+FP+10stakes&splint+GL+guys+2sacks)

+ I love the tent, big enough for 2 tall guys, competitive weight, great ventilation, burly in wind, rain, hail, and quick set up.
- If I could, I would ditch the stake tape, fix the weird zipper flaps, and go for a silnylon fly instead of PU nylon.
View More Details on Marmot Aura Tent: 2-Person 3-Season