Gear Review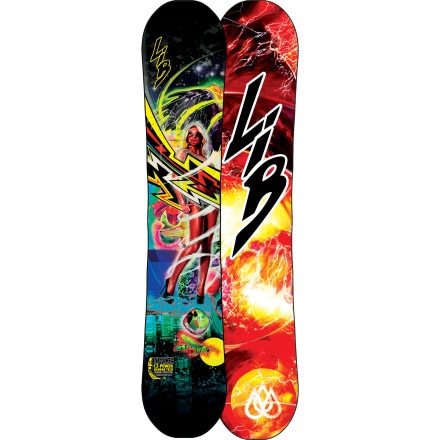 Posted on
ALL TERRAIN FREESTYLE GEOMETRIES
The Lib Tech Travis Rice is an all-mountain charger that tracks perfectly through the pipe, is snappy in and out of turns, glides in powder and fires off jumps.

C2 POWER BANANA CAMBER / BANANA BLEND (C2 BTX):
Travis Rice's favorite blend for aggressive power snowboarders pushing the envelope. Rocker between your feet blended with a radial camber to contact points. Focuses pressure between your feet for easy turns, great edge hold on ice and a solid amount of pressure to the tip and tails for power end-to-end stability, pop and maximum control in critical situations while maintaining float.

MAGNE-TRACTION (MTX):
Magne-Traction serrated edges cut into the snow like a knife giving you more edge hold and control than ever before. Magne-Traction features 7 strategically located and sized bumps along each side of your sidecut. The Biggest bumps are at and between your feet where your balance is centered adding maximum control and power where you need it most. The bumps outside your feet are smaller and less aggressive providing tip and tail control but maintaining freestyle freedom. Magne-Traction is wiggles that work. Viva Technology.
MAGNE-TRACTION FREESTYLE ADVANTAGE:
One of the best things about Magne-Traction is that the extra edge hold you get allows you to ride your board de-tuned for the park and rails and still get great edge hold all over the mountain. Take a file and round your edges so they don't hang up on the rails, boxes, or ledges. Then go ride everywhere!

TRUE TWIN:
Absolutely perfect twin geometry, tried and true science with MTX, or the added advantage of new Banana Technology and or Camber Combo.

SINTERED UHMW BASE MATERIAL:
Super tough base material that holds wax well due to its compression formed amorphous polymer structure. Super fast when waxed with Oneballjay.

CORRECT SANDWICH:
SUPER LIGHT SPIN WEIGHT! The perfect blend of pickles and mustard. UHMW sidewalls, Power Transfer Internal Sidewalls, torsionally loose. The new kids think they are new!

DOUBLE SINTERED UHMW SIDEWALLS:
A Lib Tech innovation. Twice as sintered as any other sidewall. Tough, handsome and light.
H-POP CORE
Wood Alloy Core. Experimental new dead tree with the highest compression response ever used in a snowboard. It has half the glue weight and absorbs less resin weight. Another industry first for Lib Tech.

BIO-PLASTIC BEANS:
ExperiMENTAL division leader Mike Olson loves beans! When he's not eating them he's buying plastics made with them. Lib Tech has made a commitment to using a new earth friendly, bio-plastic top skin made from beans that features the highest strength-to-weight ratio of any top sheet in the industry.

POWER TRANSFER INTERNAL SIDEWALLS:
The same futuristic power 90º pop technology from our world record setting skateboards and power transfer spines only this time we have placed it along the sidewall of your board to add board control to our sandwich construction. Stronger, more pop, and more control brought to you by our Woodshop!
View More Details on Lib Technologies T.Rice Pro Model C2-BTX Blunt Snowboard