Gear Review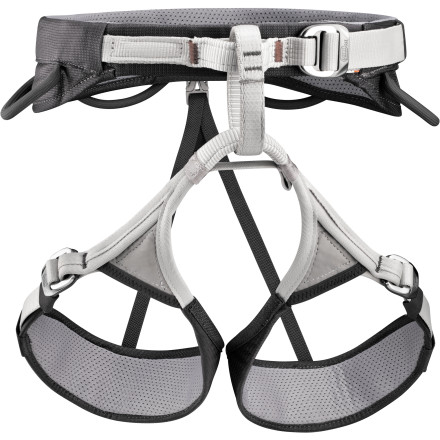 Posted on
A great harness.
This harness is an improvement over the previous design, which I had for a little while until I outgrew it (read: gained weight). It has a little more padding, but is still light and breathable. Also, the wider waist belt on the hips is really nice, and if I'm not mistaken, the leg loops seems proportionally wider than they were before.

I thought the caritool slots would bug me, because they makes for smaller rear gear loops that are pushed further back. But the rear gear loops on the medium are completely adequate in size for trad climbing and I have not had a problem fishing around back there for a sling, biner or belay device. Also, the location of the rear gear loops makes for better weight distribution with a full rack.

This harness fits me very well and it feels very comfortable when working a route or lowering. Petzl is on to something with the fit of their harnesses. They cradle your weight in a way that I've not experienced in 20 years of wearing climbing harnesses. Considering that other companies are asking 50 to 75 dollars more for their high-end harnesses, the Adjama 2 is a good bargain.

As for sizing, my waist measures about 34 inches and my legs about 24 inches and the medium fits me perfectly. I cinch the waist belt tight on my harness so I can hang a trad rack on it without sagging, and I have about an inch of room to tighten it down more should I lose some weight (fingers crossed). Looking at the sizing chart I don't see how someone with an actual waist measurement of 30-32 inches could wear this harness without it sagging.
View More Details on Petzl Adjama 2 Harness - Men's