Gear Review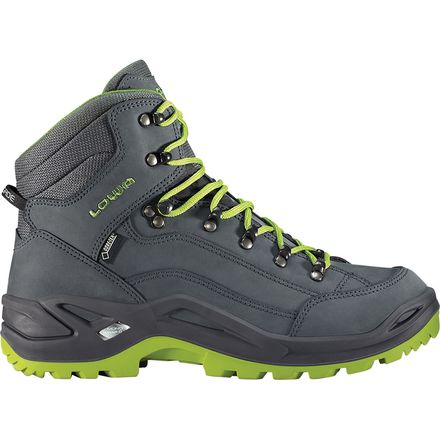 Posted on
A great day or a light weekend hiking boots
This is Lowa's top selling boot, and for good reasons. You could be pushing these boots a bit if you are typically doing a serious through or section hiking through major trails, but it's a relatively light and easy to break-in boot that is perfect for the weekenders. The liner is lasted to the boot so everything feels smooth and seemless inside; the minute you step in, it's hard to believe a hiking boot can provide this much comfort. The monowrap construction of the midsole does a great job providing stability. I tore some ligaments in my ankle 4 months ago that I'm still recovering from, so the lateral stability of the boot helped me tremendously through a moderate 6 mile hike on my first day out with these boots. The derby lacing gives a great and snug wrap around your feet, and it's so easy to get in and out of the boots once they are untied. The outsole provides great traction as well, but they aren't "stiff" as the heavy duty hiking boots, so you do get a pretty direct feedback from uneven/rocky terrains (so definitely some pros & cons) - and I'd imagine the outsoles may not last very long because of this, but I'm just speculating at this point. As always, before deciding on any model, try them on and make sure they FIT right! Reviewers may say these run small or large, but that's based on their unique foot shapes which means they won't always apply to you. Some key tips for hiking boots:
1. make sure you lace them nice and tight (but you shouldn't feel any hotspots); when your boots are laced completely there should be no slack in the laces near the toe area
2. make sure your heels don't move up and down much as you walk
3. walk down a steep slope and ensure your toes aren't hitting the front.
Summary of 2&3: snug fit through the ankle, heel, and forefoot, and plenty of toe room
HAPPY TRAILS TO YOU!
View More Details on Lowa Renegade GTX Mid Boot - Men's