Gear Review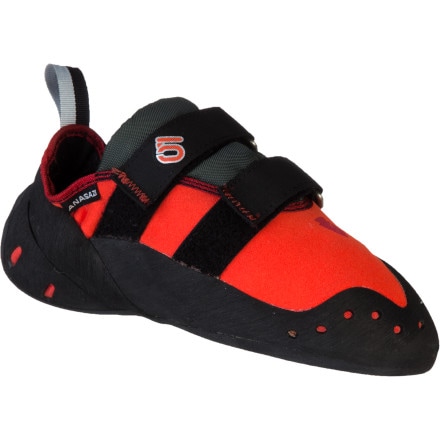 A few months in
Member since
Posted on
I got these a couple months ago and I love them. For the record, I have a bit of a Morton's toe and these fit beautifully, something I didn't expect from such an asymmetrical shoe. The pointy toe is fantastic for getting into pockets, edging feels like your standing on a platform, and heel-hooking is a dream (when fit correctly, read below). These are not truly all-round shoes, more for those overhanging sport/bouldering routes, but they are perfect when paired with a more natural-last shoe that you can stand around in all day. They are okay for smearing in, though not great, and there is no rubber on the top for toe hooking which means if you are a very heavy toe-hooker it may wear out on top faster than you'd like.

A note about fitting: The Anasazi series has a very form-fitting heel that can be a pain at first. I have read a lot of complaints about the heel compressing a lot in the Anasazi series of shoes, but this is because they fitting them correctly. In general, a half size down from your street shoe is likely idea for these. The heel folds in when not in use (this ensures the snug fit) and it is easy to put them on without getting your foot all the way into the heel of the shoe. When you are pulling on the heel, make sure to extend your toes outwards like you're pushing it away. This makes sure that your foot slides in nicely and the heel fits snuggly, and it also keeps your toes from being so curled that it hurts.

Overall, I am extremely happy with this shoe and would recommend it to just about anyone.
View More Details on Five Ten Arrowhead Climbing Shoe