Gear Review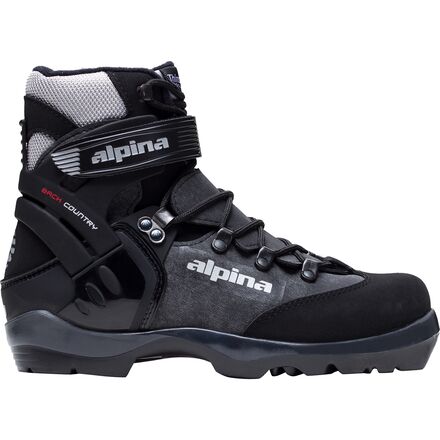 Posted on
A boot ...A boot.. a jolly decent boot
The BC1550 is a great boot. The shell is hard but not something you'd want to take on an expedition. The tongue is somewhat unique in that it is outside of the lacing area rather than tucked inside but there is method to this madness as it forms a remarkable barrier that an interleaved tongue can't achieve. There was no 'breaking-in' ceremony of lesions and blisters and I found I could wear the boot straight out of the box to ski in as much time as I could lace it.
Support is vital when it comes to BC boots and the Alpina's have it in spades. A stiff exoskeleton type of support structure enables you to really cut hard on turns while remaining stable.
If there were to be improvements to the design, it would be on the internal tongue, which feels cheap. On putting the boot on, you have to undo the whole velcro strap and then affix the laces to tie.
The loops to feed the laces through are situated under the velcro strap and receiver and should be the hooks that the rest of the boot have.
The boot clips in and out of the bindings with ease and walking around is as easy as a normal pair of boots although far more comfortable.
Overall, a good boot - attention to design and manufacturing. It's a good investment and will help on those day long or longer journeys.
View More Details on Alpina BC 1550 Backcountry Boot