Gear Review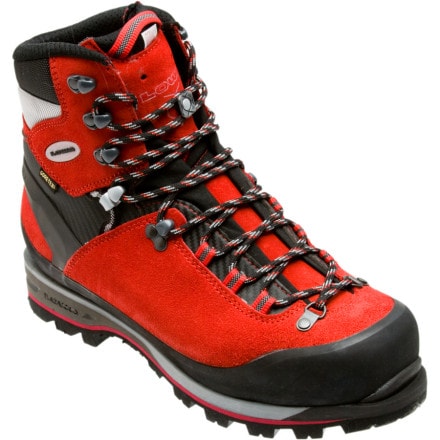 A Rare Boot
Member since
Posted on
If you've spent any time looking, you'll find very few insulated backpacking boots. There are oodles of mountaineering boots, many insulated, but they're heavy, with soles too stiff for a comfortable 2 hour hike into, say, John's Brook Lodge. And there's a good selection of insulated "snowboots", but are they stout enough to support a 50 pound backpack stuffed with 3 days worth of winter camping gear? Will the toe-box collapse and cut the blood supply to your toes when you cinch the snowshoe straps tight enough for the icy seven-hour climb up Marcy and back? In January? When it's 10 degrees?
That's exactly what I bought mine for - my yearly winter camp with my best friend in the 'dacks. Not too heavy (my 10 1/2's tipped the scales at 2 and 1/3rd pounds each), waterproof, with Primaloft insulation, they are plushly padded inside yet the "heel truss" locks your foot firmly in place. Lacing design is fine. It takes some effort to push the tongue flat and out of the way against the instep, but there's a cool knob which keeps the tongue centered. There's enough rocker for a comfortable stride. They look like a million bucks (if you're not averse to red) - the craftsmanship is gorgeous.
And how did they perform? Well, my toes got cold. But so did my buddy's, and he had on Koflach Plastic mountaineering boots with closed-cell foam inner liners. Not unbearably cold - nothing a bit of wiggling couldn't fix. But except for a good toe-pocket, interior volume's on the snug side (I have medium width feet). You really need to buy a full size larger than usual (not half as I did) to get two pair of socks in without scrunching. Or a liner sock, heavy wool sock and vapor barrier, to keep hike-sweat from soaking the inside then freezing overnight.
My two other caveats: not quite enough ankle support. The composite construction there flexes a tad too easily, which nonetheless allows good freedom of movement. (I recently tried on the new La Sportiva Pamirs which feel awesome on this point, but, alas, are neither waterproof nor insulated).
And the tongue wasn't quite thick enough to prevent some minor but unwelcome pressure on my left instep ankle bone, but this so mitigated by thick socks so as not to be an issue.
Over-all, beautiful boots with some minor flaws, but in this category there's not a lot to choose from.
View More Details on Lowa Mountain Expert GTX Boot - Men's