Gear Review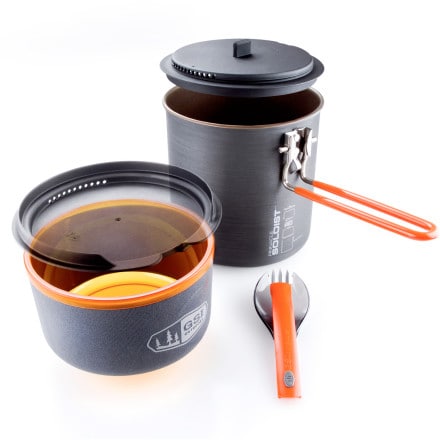 Posted on
90% on the money
Great for one person, maybe even a little bigger than needed. It holds enough water for 2 but lacks the 2nd bowl and spoon.
It's well made, and has proven durable in the 4 trips I've used it on (total of 14-15 meals), plus a dozen 'testing' runs in the kitchen. It heats evenly and quickly, is a snap to clean as long as you don't burn stuff to the bottom. The non-stick seems to work well, so not much sticks, and its easy to clean even if you do burn stuff.
I read other reviews that warn of burning the rubber coating on the handle, or melting the rim of the lid, but I haven't had that happen to me. I cook with a conservative flame though, so...shrug.
I debated and eventually gave it 4 stars because I though do 'Love it', being the overly particular guy that I am, see room for minor improvement. Namely, the cup/bowl is only one vessel. I would have liked to see a nesting insulated + non-insulated pair of bowl/cups like the dualist has. It would have been convenient.
Also, there are no volume makrings on the pot. I used a permanent marker on the outside of the bowl and use it as a measuring cup for 6 and 12 oz, but is kind of a hassle. You can just see them on the inside of the bowl.

The real issue I have with is when the side of the package says' fits 220g canister, they mean a 220g canister. Not a 221g canister. You'd think that it wouldn't make a difference, but somehow it does. After buying it, I went to toss in my 8oz Coleman Butane/Propane can, and it didn't fit. I'll spare you the gorey details, but after an hour at the local outdoor store trying every can in stock, the salesman and I found that a Snow Peak can fits (220g), an MSR *technically* fits (227g), but the lid doesn't seat well, though the handle locks. Same goes for GasOne cans. A JetBoil can does NOT fit (230g). Same story with a CampingGaz CV270 canister, should anyone still be rockin those. Optimus cans *say* 220g, but no one near me stocks those, so I can't verify it fits.

I love this set, but GSI could have fixed this by adding 100mL of volume (0.1 oz in weight) so all major 8oz gas canisters fit.
No surprise, 4oz (approx. 110g) cans fit with ease, even the funny wide-base MSR cans.

My Bottom Line: hard to beat if you like big volume, and carry 4oz cans, or are willing carry the fuel elsewhere in your pack.
View More Details on GSI Outdoors Pinnacle Soloist Cookset