Gear Question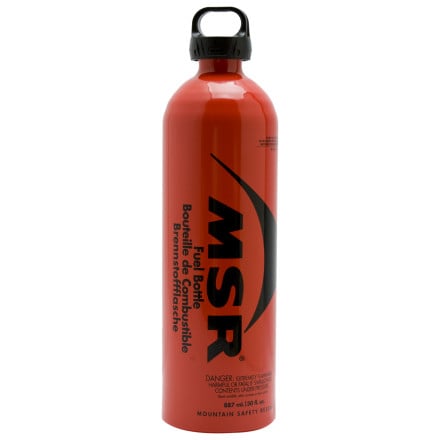 Posted on
im going on an 8 day backpacking trip in...
im going on an 8 day backpacking trip in killarney provincial park and i have the msr whisperlite stove and i have know clue how much fuel to bring. I plan on buying the 20oz bottle, and there will be 4 people coming on the trip and we will be cooking with the stove at least 2 meals a day. how much fuel bottle should i bring??
Responded on
if you are doing a fast cooking (15min at a time) a 30oz bottle will do
Best Answer
Responded on
Lot's of variables in that one, but I would take at least 2/20oz bottles for that amount of people and time. Even an extra 11oz for contingency's sake and to use for the actual cooking wouldn't be a bad thing (using the other 2 for just storage and transfer). I would probably figure on using my stove for a minimum of about 20 minutes per day x 8 = at least 160 minutes. The WhisperLite, optimally, will give you 110 minutes per 20oz. If you go for 30 minutes per day, your fuel needs theoretically go to 240 minutes and more than just that 40oz you're carrying. Fine line. Worst case scenario- you might come home with some fuel left over. Ideally- you won't risk running out on day 6 or 7, and, you can use a larger pot so that everyone can eat at the same time (more water means longer boil times). Here's a few things to consider besides just how much fuel you'll need- The 30oz bottles are sort of a pain to cook with, an extra bottle for backup/unforeseen spills or whatever is a good thing to have if eating depends on it, dividing up the weight more evenly is always appreciated, etc...

If it's a factor, don't forget that airlines will not allow you to carry full fuel bottles, ever, and will only let you carry used ones if you cleaned out all traces of fuel, leave the cap off, and declare it.
Responded on
I'd probably bring 3 20 oz bottles between the three of you just to be on the safe side -- I know that I had planned on using my stove for just cooking on a few camping trips, but it ended up being used to boil water for makeshift shower wipes, making drinking water, and using some of the fuel to light a fire (great way to create a fireball and singe your eyebrows!). The weight shouldn't be that big of an issue if you're careful about packing the rest of your stuff and distribute your gear thoughtfully.
View More Details on MSR Fuel Bottle