Gear Question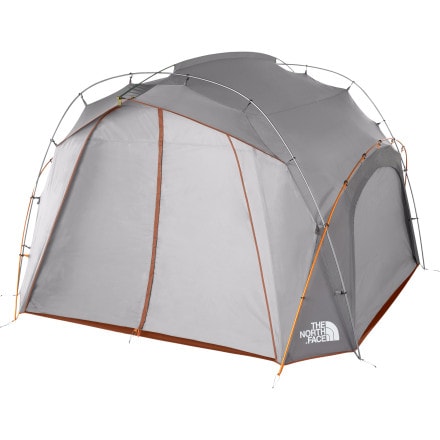 Posted on
any idea about how this holds up to wind...
any idea about how this holds up to wind and rain? My nephew (17) wants to go to D-Day paintball in Oklahoma with five buddies. I cringe to think of them walking around in my nice floored tent without removing shoes...hey, they're men, right? :) Rain, hail, and high winds are to be expected. I don't' want to buy them a tent that's going to collapse on them. I'm thinking of buying them this and the four man and two man docking station. Does anyone have any experience at all with this tent?
Responded on
Just come back from 4 weeks in france using this tent. It has gone back to TNF. The main hub doors only toggle shut, no zips so any breeze with rain and the rain can get in. There is not enough of an overlap between the pods and the main tent towards the bottom so rain can get in there also. It runs onto the skirt inside the tent and sits there or runs onto the ground sheet protector and sits like a water bed between the groundsheet protector and the floor of the meshroom. The tent uses external clip poles on the main tent. When it rains the rain runs down the clips, down the material that attaches the clips to the main tent, through the tent fabric where the tabs are stiched in and into the tent. This is worst at the points where the elastic to hold open the internal doors are also stitched into the main fabric of the tent. It is my guess that the tent was not tested properly as these issues would have forced TNF to modify or completely change the design. On the plus side the tent is roomy, holds up to the wind and looks good but when you are spending this much on a tent you would at least expect it to keep the water out.
View More Details on The North Face Docking Station Family Tent 6-Person 3-Season