Gear Question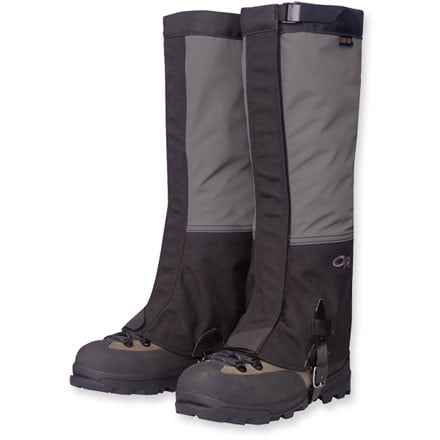 Working in the Everglades a few days per...
Member since
Posted on
Working in the Everglades a few days per week, hiking (w/ 20 lb. pack) through sawgrass (Cladium) and 6 inches of water on mud trails that are either peat-based or marl (eroded limestone clay), with consistency between loose oatmeal and slick peanut-butter. Crotch deep mud holes are unavoidable and bad enough if you are 6' 4" (1.9m) tall. Throw in occasional holes that are belt deep, and hip waders aren't an option. Chest waders are hot and overkill for 99% of the day. The sawgrass is abrading my pants away and the mud is ruining my the interiors of my leather boots and my socks. These Crocodile gaiters look promising for the thicker mud and muck, and cooler than rubber or neoprene waders. best of all, gaiters are easier to fit with my size 15 EEEE feet, as most pull-on boots will not allow my high-insteps to pass (I wear boots that lace up, instead of pull-ons). But I spend enough time in muddy water, that fine mud will still soak through to the socks, right? Suggestions welcome.
Member since
Responded on
My best experience with the Crocs was traipsing up the Escalante River after a cattle drive. The water was completely clouded with silt from the cows marching through. Until I stepped in water over the top of the gaiter, my feet stayed completely dry and silt-free. I expect you'll have the same experience in the FL mud. Once the muck/water rises over the top of the gaiters, there really isn't much you can do.
View More Details on Outdoor Research Crocodiles Gaiter - Men's