Gear Question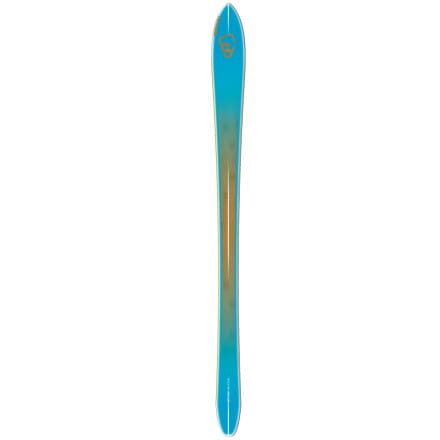 Posted on
Which carves better on hard and packed...
Which carves better on hard and packed snow, the Salomon BBR 8.9 or the Volkl Mantra?
Best Answer
Responded on
The mantra holds an edge way better,It is a stiffer and more torsionaly rigid ski. The BBR however has a much more drastic sidecut that makes it turn incredibly easy. So bottom line, if edge hold is the most important thing, go with the mantra, If ease of turning is the most important go with the BBR.
Responded on
I have 2012 Mantras and 2012 BBRs. On the hardest, iciest pack, you got to go Mantra. The ski is super stiff, turns hard and predictably. You'll rarely slip.

All that said, I enjoy the BBRs more. They're might lighter with a lot more bounce. Playful is the word for these skis.
Responded on
Funny you bring this up! I have both, and I find them very similar in personality, very playful, at different speeds. I'm a good skier and I use the Mantras for skiing groomers and hard snow, probably too fast. The Mantras are better on ice, of course, very stiff, and need a fair amount of speed and input to come alive.
I use the BBR 8.9s for powder- great in powder with the huge soft shovel- but will take them out when I'm skiing with little kids etc. and am going at moderate speeds. Just grinners.., easy and fun...make you wanna do wall hits and nonsense. Zipper line bumps? sure. I have fatter powder skis, but I just throw the Beibers in the car and know I'll have a blast on anything.
The 8.9s and the Mantras are both extremely good carvers. Also I concur with what was said above on the BBR 10. I think Sollie was stung because the "chargers" thought the 8.9 too soft so they stiffened it up to please that crowd and took the fun out of it. It's trying to be a Mantra type ski, but it has none of the playfulness of the Mantra, it's just a brick. I could see a BBR 9.0- somewhere in between, stiffer in front of the toe, but not as stiff as the Dynastar Cham 97- no giggle factor there either. Put the BBR 8.9 on edge and they're plenty stable. Get them on a mountainside of Utah blower, and wow, you're a believer.
View More Details on Salomon BBR 8.9 Ski