Gear Question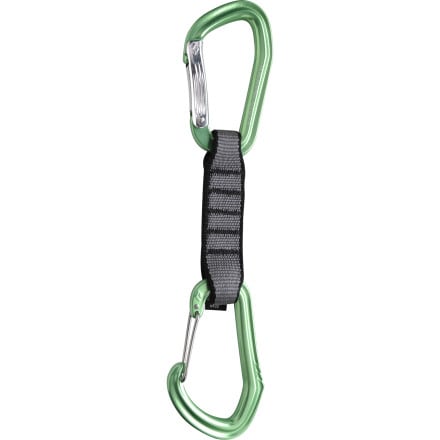 Posted on
When using this quickdraw, which carabiner...
When using this quickdraw, which carabiner should be clipped to the route, and which be clipped to the rope-- and why?
Responded on
To simply answer the question, this draw is designed to use the wire gated side for the rope, which is really useful if you clip the draw onto the bolt, and then pull the rope up with just your hand to the hanging draw. A wire gate is easier slap the rope into than a regular bar gate.

That said, I usually clip the rope and then the draw, using the draw like a pulley for the rope. Since getting the rope into the hanging draw isn't usually on my concern list, I don't think I would pay $25 for this draw, but if you DO clip the hanger first, then yeah, great quickdraw. Also, as Silas Shirley said, it won't twist around on you.
Responded on
The method Lyric described for clipping is not as safe as the conventional method of hanging the draw on the bolt first and then clipping the bolt. If you blow the clip while the draw is on the rope and not the bolt, the draw will fall down on top of your head after you fall, a big problem if you are not wearing a helmet.
To answer your question, the wire gate biner is meant to clip the rope into, while the straight solid gate goes on the bolt.
View More Details on Black Diamond LiveWire Quickdraw