Gear Question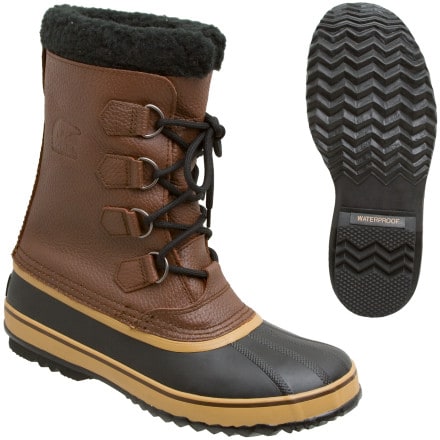 Posted on
Whats the difference between this boot and...
Whats the difference between this boot and the caribou? Is it just the color and tread pattern, or are the liners different weight and the uppers different material?
Responded on
PowPow- Both boots are rated to -40°. The Caribus weigh slightly more than the Pacs. The Caribu also has a deeper tread on its sole, making it slightly better for off-road hikes and icy areas. . The tread on the Pacs doesn't grip as well. The Caribus' upper is a nubuck leather while these are embossed leather. I believe nubuck leather is tougher. Here is the difference between the two liners:

"ThermoPlus® InnerBoots: Pioneered by Sorel in 1993 after extensive field testing. ThermoPlus® InnerBoots provide superb warmth, moisture transfer, comfort, and durability. An advanced four-layer construction wicks perspiration from the foot, maximizes thermal insulation, and reflects body heat back to the foot for a warm, dry foot "climate".

1. Soft, short loop polyester Minktex® (green inner layer) maximizes contact to quickly wick perspiration from the foot.
2. Black polypropylene core insulates and facilitates wicking process.
3. Radiantex® foil reflects body heat back to the foot.
4. Polyester/viscose blend (camel outerlayer) insulates and stores moisture away from the foot.

Washable/Recycled InnerBoots: Pre-consumer recycled polyester. Ideal for children's boots where InnerBoots are exposed to excessive dirt and perspiration. A unique two-layer construction wicks moisture from feet and provides excellent insulation."
View More Details on Sorel 1964 Pac T Boot - Men's