Gear Question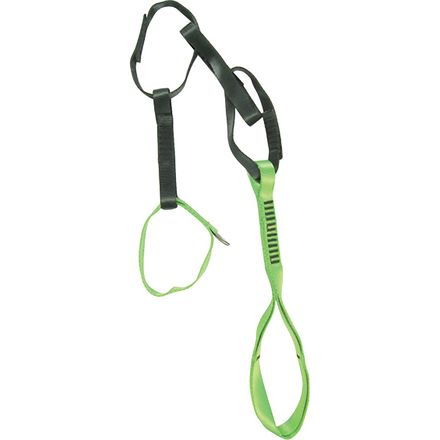 Posted on
What is this for? I'm new to climbing and...
What is this for? I'm new to climbing and I'm kinda confused on this product? Is it for quick clipping into anchors and your rope or what?
Responded on
This product is a safer alternative to daisy chains when you want to clip into an anchor at the top of a pitch or sport route. It is not for clipping into your rope. You always want to tie the rope directly into your harness and leg loops.
Responded on
Hi Ryan. You should never at any time be off anchor while anywhere on the face or edge of a climb. If your on the rope, your on anchor. But, at times, you will be building an anchor for your climb, getting to an anchor that your partner has set above to belay you up, and many other reasons that you might have to un-clip from your climbing rope. This is where this device comes in. It does the same thing a set size nylon harness or a piece of 7mm rope tied into a loop (sling or runner)could be used. The advantage of a chained unit like this is the speed in which you can clip it off to the length best suited to what you need. A secondary use could be for tying in protection at your anchor point if you don't have enough slings, etc. Hope this helps..PS> I'm a noobe too. This will be run through your harness just like your rope in most cases. I leave mine on and run the rope through right next to it. On a sport climb, if I'm soloing, Ill just pull the free end of my daisy and clip to some pro to rest. Get rested, un-clip and climb some more. Another PS.. don't solo until you can really climb. You have to have a lot of rope experience as well. You stand the chance of falling, swinging into injury's, or just plain getting stuck mid rope with no way up or down. You could hurt yourself or die quite easily.... just be careful and climb with a pro for awhile. Good luck and above all, have fun!
View More Details on Sterling Chain Reactor Pro Canyon Sling