Gear Question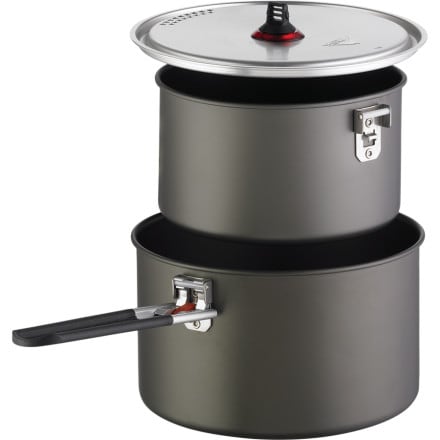 Posted on
What difference in function between the...
What difference in function between the base 2 set and the quick 2 set? Deciding between the two; I see the difference in features but what do they mean in terms of which I should be getting?
Responded on
The only difference is that the big pot is teflon coated in the Base 2, and the big one is not in the quick 2.

Get the Base 2- you won't notice the ounce of weight, but you will notice the nonstick and $15 in your pocket.
Best Answer
Responded on
Although well-intended, Simon Hatfield's response doesn't give you the full picture. In order for you to make the most valued decision, I would add these points:

The Base 2 Pot Set is MSR's valued set that would be considered high-end from any other manufacturer. It is made from aerospace aluminum (best aluminum available), uses the best teflon coating available, and has a baked on exterior silicon enamel coating that is highly resistant to chipping and minor scratches. For the weekend warrior, this set is well made and worth every penny. Having both pots teflon coated means easier clean up and non-stick performance, but also is more prone to damage in the field due to scratching of the teflon which damages the pot. You have to be more concerned about using metal utensils with teflon coated pots.

The Quick 2 Pot Set is all about durability. Instead of an enamel coating (although durable, it can be scratched), the Quick 2 uses hard anodization. This coating is applied using electricity which actually combines with the molecules of the surface of the aluminum and does a few things. One, it is impervious to wear (will never wear off) and actually helps in giving it more consistent heat distribution (gourmet cooks love it!). Two, it actually hardens the outside of the pot which gives it similar characteristics of a stainless steel cookset without the weight. MSR uses the best hard anodization available which warrants the price increase. The large pot isn't teflon coated based on durability issues (no matter how good the teflon coating is, it will eventually start to peel and/or chip). It should be noted that the hard anodization does have a level of non-stick performance similar to uncoated stainless steel...far better than titanium or uncoated aluminum. The Quick 2 Pot Set and System is MSR's most durable and most worthy for hard backcountry use.

Bottom Line: If you want an excellent cookset that will perform well for many years, both cooksets will do. However if you demand more worry free durability with a bit better cooking performance, the Quick 2 Pot Set and System are the best out there.
View More Details on MSR Quick 2 Pot Set