Gear Question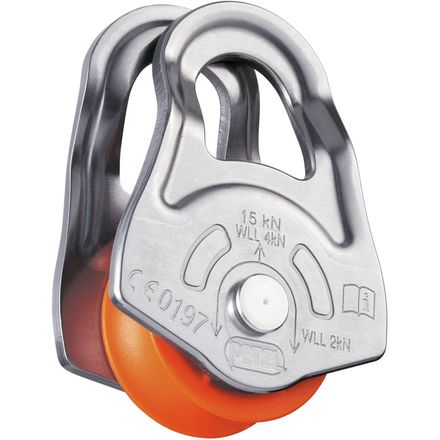 Posted on
We bought the Petzl Oscillante Pulley for...
We bought the Petzl Oscillante Pulley for our Boy Scout Troop with the intent to use it for a zip line. The rope was tied from a tree on one side of the gulley to a tree on the other side of the gulley. We created a rope harness that the scouts sat in and attached the harness to the pulley with a carabiner. The carabiner also had two ropes attached to it to pull it back and forth across the gulley. One rope given to scouts on one side and the other given to scouts on the other side. At the end of the day, I looked at the pulley and it appeared as in the picture attached. The rope had melted the pulley wheel and even started melting through the metal pin holding the pulley assembly together (thru the pulley wheel). When we first started using it that day, the pulley seemed okay on the rope. I believe that the rope was within the limits described. Any thoughts? This definitely didn't work out the way we had hoped.
Responded on
Looks like at some point it stopped rotating then started to burn from the friction of the rope. This device is not designed for high speeds, its made for light rescue and for climbing (hauling gear bags) or other climbing applications. The plastic is not made to stand up to heat, i would look into something that is made for zip lines probably a metal pulley. I dont know of any climbing gear made for that fast of movement and that much friction. Good luck be careful.
Best Answer
Responded on
Like Vern says- this is made for haul-lines. For a zip-line, you want a double sheave, steel and ball bearing trolley. The lack of bearings is what made the nylon sheave freeze up as it went too fast, got too hot and fused with the axle pin. Sorry you're not going to get off quite so cheaply with the real deal, but at least nobody got hurt, and with the right gear, you guys will rip.

Here's a link so you can see what you need: http://www.ziplinegear.com/zip-line-gear/pulleys.html

Be sure to inspect your rope, too.
Responded on
Totally agree with the other two this pulley was not meant to be used as you used it. If you want to get this pulley dont be put of by this. This is a great light weight pulley. I use it as most do for a light weight crevasse rescue pulley and the plastic wheel is perfect for this job.
View More Details on Petzl Oscillante Pulley