Gear Question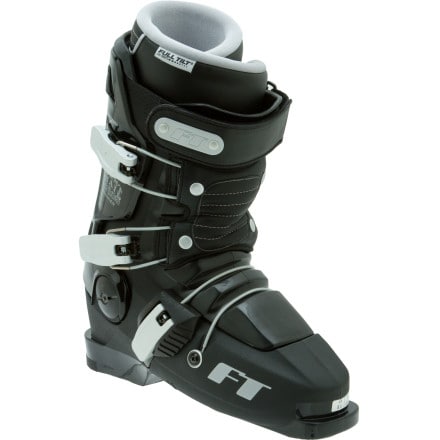 Tried the Salomon X3 Lab Soft boot in a...
Member since
Posted on
Tried the Salomon X3 Lab Soft boot in a 25.5 and they fit perfect: 130 flex, 95mm last. Only problem is they were way too hard to get on - the shell overlap is extremely thick and stiff, felt like the lower 2 buckles were closed when putting them on. Had to return them, can't handle the pain of putting them on and off.
My question: would the Full Tilt First Chair boots be narrow enough? Seems like the only boots narrow enough are World-Cup race boots, I currently have Lange World Cup 150 boots but looking for something a little softer, with a thicker liner and easier to get on and off. I'm 5' 10", 165, female, narrow feet, tired of slicing up my fingers getting stiff race boots on and off!
Member since
Responded on
You should try the Salomon Ghost as well. They are 98mm and they are built on the Salomon race last. The stiffness is 130 and the 2 buckle construction may be better for your forefoot issues
Member since
Responded on
I am also a female with narrow feet, although I am smaller than you (5'5", 130lbs)
The First Chair and womens Soul Sister both have a 99mm last.
I did a run the 2010/2011 full tilt womens Soul Sister at Stratton last year and I found it wide for a narrow boot, but they were also a little big.
I measure a 24.5, wear a size 8 sneaker, and I wear a 23.5 ski boot.
They only had the 24.5 and it was too big. It was also a little long, so it was probably the wrong size for me anyway.
I ski the Salomon Poison. It has a flex of 90 and a 98mm last. It is the Women's equivalent to the men's Shogun (flex 100). I have also tried on the Salomon Instinct CS in a 24 and I found it too wide, even though they are both Salomon and have the same last. I used to have the Salomon Scarlet size 24, which I found to be narrower than the instinct. The Scarlet is discontinued (replaced by the poison).
I have practically no room in a shell fit in my poisons but it doesnt feel too short at all, even though i wear a size 8 in a sneaker and they my boots are a 23.5.

The liner: Looking at the liner, it appears thin, but wearing the boot, it feels soft and cushy, not in a bad way like a beginners boot. They feel supportive and stiff.

You might want to try going down a shell size, but be careful that that shell size isn't softer. I would also recommend the whole size and not the half size because they both have the same shell, but the whole size has a thicker liner. Atomic boots are not like this (ie. the 24.5 and 25 will have the same shell). Dalbello might be the same way.
Since you were in world cup boots, especially a boot with a flex of 130, I will assume that you are a strong skier. The 24-25.5 should have the same upper shell so that should be the same stiffness. A larger size will be stiffer than a smaller size. My 23.5 are made using the top part of the 22-23.5. I feel like it is a little too short, but they are the closest to perfect I have ever found. I can't flex them when it is really cold, but I like that I can't flex them, but I am also smaller than you.

A woman's boot will be narrower than a men's boot of the same last, but world cup boots are probably different.

A bootfitter might be able to make the Soul Sister fit. The soul sister has a medium flex (6 on full tilt's scale of 10) but you can buy a stiffer tongue to make it stiffer.
If you can find the Scarlet in your size (flex of 85, but I couldn't flex it and I found it to be stiffer than the Salomon Idol 8CS, also with a flex of 85), try it on. Also try the poison, if you can find it.
View More Details on Full Tilt First Chair Ski Boot - Men's