Gear Question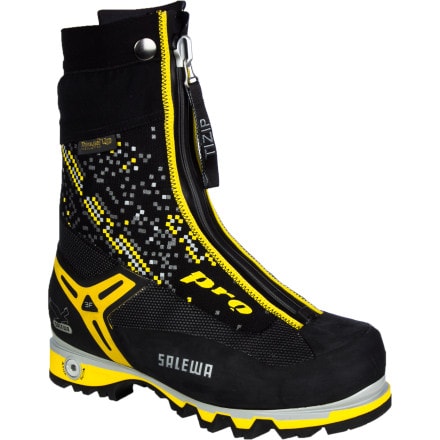 Posted on
Tried on the Guide version yesterday in a...
Tried on the Guide version yesterday in a US 13 / EU 47 (Gaiter version not available in my size). The boot fit my foot really well - great start. Walking around in 'WALK' mode is an eye opener, and I could def see how the flexibility would make approaches measurably easier/faster. In 'CLIMB' mode, however, there was still some flex to the boot (way more than my old Baturas).

So, a question to those of you who have this boot and have climbed steep ice/mixed in it: how does the flex in 'CLIMB' mode affect your climbing on steep terrain? (I realize this flex might only be an issue with the largest size.)
Responded on
Erik,
I haven't noticed a difference between the older Baturas and the Salewas (while in CLIMB mode, though I attempted to climb steep terrain in WALK mode and it was very wonky) and I'm a size 44. I use the BD Stinger with the standard centerbar (not the flex) for most steep ice/mixed, so my crampons keep the boot fairly stiff. However, the newer Batura 2.0 with a carbonfiber honeycomb sole makes the boot stiffer and does make a noticeable difference. You may find yourself working slightly more to fight calf-pump when standing on the frontpoints as compared to the Batura 2.0, though when able to engage the secondary points this difference was nearly eliminated. These newer Batura 2.0s are much stiffer but the lower profile keeps me from walking like Frankenstein on the approach. Though the convenience of WALK mode makes this minute sacrifice worth it for any routes with a substantial approach.
View More Details on Salewa Pro Gaiter Mountaineering Boot - Men's