Gear Question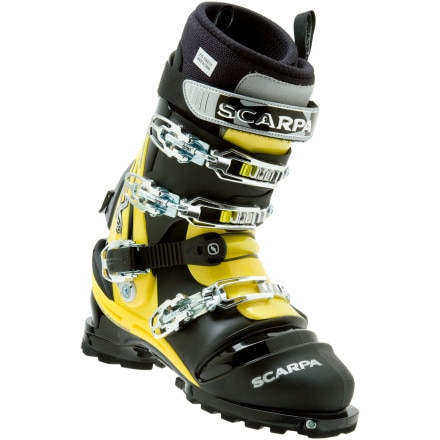 Posted on
Terminator pro or Garmont prophet? I'm...
Terminator pro or Garmont prophet? I'm looking for a new boot for my bishop bombers. I used to ski the 8 year old Crispi XR 4 buckles with a super soft bellow. Now I have the newer Crispi XR 4 buckle from 2 years ago made with carbon fiber and all that crap. It's stiffer than a t-race and I hate it. I love a stiff big cuff to stand me up landing jumps big a nice soft bellow for that smooth tele-feel. I wear 28.5 in Crispi. Whats that in Scarpa and Garmont?
Best Answer
Responded on
The Terminator pro and the Prophet (and other NTN boots) will not work with Bishops. I prefer the T Race, or T1, but Garmonts have a softer forward flex and bellows. Bishops only accept standard 75mm duck bill tele boots. 28.5 means 28.5. It is a standard measurement called Mondo size. 28.5 means about an 11. There are sizing charts available on the page. Hope that helps. Happy turns!
Responded on
Jack,

Thanks for your help. Let me try this again. Which has the softer bellow; the Prophet or the Terminator? Are ether Scarpa or Garmont know to run bigger or smaller than their stated size?
Thanks
Responded on
Prophet's are easier to flex, but don't flex as far forward. Terminator Pro's have a smoother feel, with more resistance, and more travel forward. Garmont's are often referred to people with wider feet, but the new Scarpa NTN boots are higher volume, and have a large toe box. The fits between Garmont and Scarpa have always felt matched to me. I by far prefer Scarpa, because I think they hold up longer, and don't flex as much laterally.
To correct my earlier answer, or at least clarify, NTN boots will fit in a Bomber Bishop, but they will eject from the toe bail, and they won't give the resistance that you'd get with a 75mm duck bill boot. Read about why the Bishop has the toe bail vs. a box.
View More Details on Scarpa Terminator X Pro Telemark Ski Boot - 09/10