Gear Question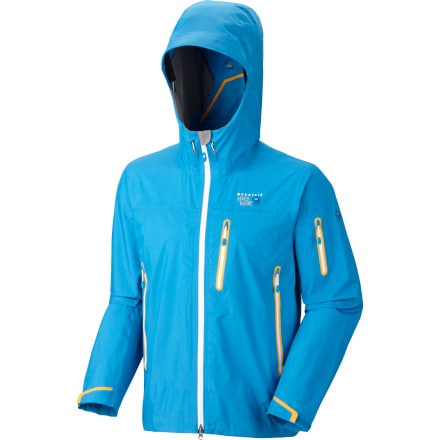 Posted on
Since this product is from one of the many...
Since this product is from one of the many eVent fabrics available, I am wondering how windproof is this jacket especially in the winter? When on a ridge or even a chairlift during high winds (ie: wind speeds up to 70 mph), the early reports of eVent fabric from even last year indicated that the wind did penetrated the fabric in various other manufactures, whereas the Goretex Pro Shell had better resistance in stoping the wind.

Any input would greatly be appreciated. Thank you in advance.
Best Answer
Responded on
hdr. Thanks for your question. First of all, I think it is important to clarify that DryQ Elite is not an eVent fabric. Although the technology (meat of the sandwich) is similar the fabric package (the bread, cheese, and everything else that makes up a fabric sandwich) is completely different and wholly created by Mountain Hardwear. This is what makes DryQ Elite ground breaking and unique in the world of waterproof breathable and now... air permeable fabrics. So, now to your question... this jacket is completely windproof. If you were to blow on the fabric no air would move through. If you tried to breathe through the fabric you would more than likely suffocate so please do not try. .05 CFM (cubic feet per minute) of air is able to move through the DryQ Elite fabric at any given time. At last check, the current industry standard for windproof-ness is 5 CFM and any textile coming in below that is considered windproof. What .05 CFM provides in terms of performance is air permeability which translates to 'instant on' breathability which translates to happier drier and less clammy times in the backcountry overall.

Again, this is not an eVent fabric and is totally new to the market. I have been wearing a Mountain Hardwear Dry Stein Jacket for over a year now and have had it in every environmental condition you could imagine from the rain on the north shore of Maui to the highest peaks in the Rockies in the winter and have been blown away by the performance. So, pick one up and see for yourself! It's performance will speak much louder than my words! Cheers!
Responded on
Thank you Jon Webb. I will now be in the process of getting rid of my old gore tex jacket and to switch back to Mountain Hardware. I wish they make the 1/2 bib pants as well.
Responded on
I used the MH DryQ Elite Quasar ski touring in Alaska last week and it breathed well. When I got damp base layer from perspiration, I dried out in under an hour without taking the shell off off as I slowed down the pace. It kept the wind out, and I used it over a softshell and light base which is was a good system for backcountry skinning in Alaska temps in teens and twenties. Lack of pitzips and pockets allowed easy packing, and 9 oz weight helped. Didn't miss pitzips as it breaths enough, and no zips makes it fit and move better. It didn't rain.
View More Details on Mountain Hardwear Jovian Jacket - Men's