Gear Question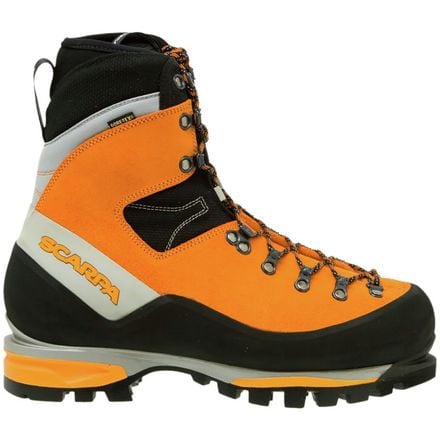 Posted on
Planning to climb 7,134m

Hi,
I'm planning...
Planning to climb 7,134m

Hi,
I'm planning to climb 7,134 metres (23,406 ft) peak, Lenin Peak in Pamir mountains in July/August and was wondering if these Scarpa Mont Blanc GTX are gonna be warm enough?

Or I should go for PHANTOM 6000 or PHANTOM GUIDE or SPANTIK or BARUNTSE?

But if I wore the Mont Blancs with Neoprene Wading Socks, how cold/warm will it be??
And what crampons would you recommend, I'm currently looking at BD Sabertooth.

Thank you all.
Best Answer
Responded on
Phantom 6000 will be a better bet, although if you're climbing technical stuff, the Guide would serve you a little better. Don't skimp when it comes to your feet. If you consistently get cold feet, something like the Spantik might be the best choice of all.

As for crampons, I've heard of some problems with the points deforming under body weight on a couple pairs of the Sabertooths, so beware of those. Grivel G12 crampons are a favorite for a lot of climbers, and the Petzl Lynx seems like the new classic. Thing is, you need to get crampons that fit your boots really well, or else you could be in trouble, so don't buy them online. Buy your boots first, then go into a store and fit as many as you can. The best crampons will basically stay on your boot with just the toe bail attatched, and not the heel. If there's no store nearby, buy a couple pairs online, fit them, and return the ones that don't fit perfectly.
Responded on
Thank you James!
A lot of useful info there. Yeah, from quick internet research Petzl Lynx seem to be like a very versatile and a winner. Will check out local stores and see if they have them in stock to try with different boots.

Regarding the boots, it's just that I already have the Mont Blancs, but never went above 4,500m so not sure how 7,000m will feel like.
Also, it might be an off-topic question, from Scarpa website both the MONT BLANC GTX and the PHANTOM GUIDE have the same last: AG, so it would be reasonable to assume that if MONT BLANC 42.5 fit me, so should the PHANTOM GUIDE? or should i go a 1/2 size bigger/smaller?

Thank you again!!
View More Details on Scarpa Mont Blanc GTX Mountaineering Boot - Men's