Gear Question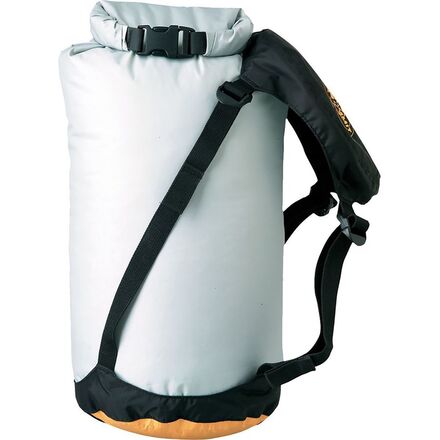 Posted on
Ok guys, little about me. i like the...
Ok guys, little about me. i like the minimalist weight but im comfort driven. im getting back into the outdoors after a 3 year abscence so im looking for new gear. ive been searching for a compression dry sack for a long time and this one seems bomb ass. i have a coleman exponent mummy bag: it measurements are 33" x 85" what size sack do i need for this bag? Also i have a solo tent in its bag its about a foot and a half long: should i get a bag for that? and finally every time i go backpacking i bring about 2-3 extra sets of clothes: what size sack do i need for that? Any good ideas for packs, i usually do weekend trip but i want to throw in a week long in there every now and then. Thanks guys
Responded on
OK, first the sleeping bag- there are lots of different Exponent bags, so it's hard to say without knowing which one you have, but the rule of thumb is that you take the dimensions of your bag when in its stuff sack and use that as the starting point for your compression sack. Off hand, I would think that a medium-large is going to be what you'll want here. For the solo tent, obviously without stakes and poles, most likely an XS-S. Again, hard to pin it down exactly without knowing what type of tent, but the same rules apply. Just for reference, my lightweight 2 person tents all fit easily into the XS in this. Tents are a perfect application for comp sacks. With clothing, I find that compression is usually not worth it, and it's better to pack with just a waterproof ultra-sil sack and lay them flat at the bottom of my pack to get the best use of space. Typically, for 3-4 days, I use a large sack. Remember that compression has it's place, but it's not always the best way to go. You get very small, very solid balls or cylinders that don't give very much...think stacking rocks, not filling every nook and cranny with sand. One of the key tricks with comp sacks is that you want to make your job of getting the contents into it (and in this case, the top rolled over) as easy as possible. Let the straps do the hard part and make it small. And yes, these are seriously bomber ass sacks.

If you tell us what kind of bag and tent you have, I or someone else will tell you exactly what sizes you need, but I hope these basic suggestions and guidelines helped.

And as for a pack- you can hardly go wrong with Osprey. Between the Aether, Atmos and Kestrel series, I'm sure you'll find exactly what you're looking for in volume, features and fit.
Responded on
Man that was much appreciated! Couldn't ask for a better answer. Looking at my bag, it says colman exponent northbound 15 degree bag. As for my tent, its a coleman exponent inyo solo tent. Again thank for the great advice!
Responded on
Hey Adam. It actually does get better. Your Northbound 15 stuffs at 9x14" so even though you could possibly get by with a Small, I would recommend the Medium for an easier time of it. As for the tent- I couldn't find the stuff size anywhere, but based on the pitched dimensions, the XS would work well, although to save some money, and because you don't really need the sack to be waterproof for your tent, go to a Granite Gear Rock Solid. Clothes stay the same with a Large Ultra-Sil laid flat.
View More Details on Sea To Summit eVent Compression Dry Sack